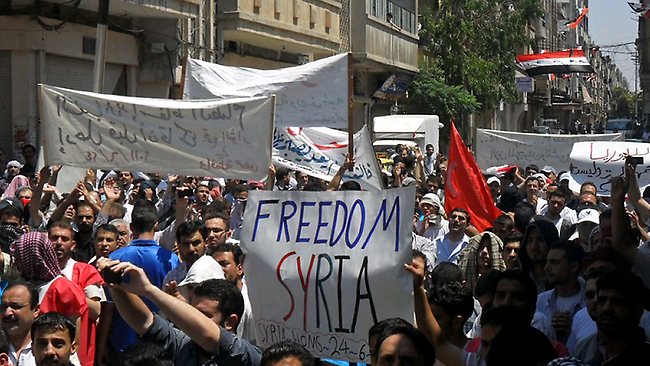 Protests in Syria
In Syria, what began as another chapter of the Arab Spring has deteriorated into a humanitarian catastrophe. Peaceful protests starting on March 15th, 2011 were met by the reigning Assad regime with violence and mass arrests. Popular uprisings soon became a full-scale civil war, resulting in over 100,000 casualties and the displacement of millions. Government air raids on rebel strongholds are frequently indiscriminate and result in numerous civilian deaths and massive damage to infrastructure. Army sieges on entire towns prevent access by humanitarian groups to provide necessary food and medical assistance to needy Syrians, resulting in widespread malnutrition and disease. Jihadist elements with extremist ideologies have capitalized on a lack of foreign intervention by waging successful campaigns against the Syrian army, resulting in both increased favor among rebel groups and the further discouragement of outside support. On August 21, 2013, a chemical attack on the Damascus suburb of Ghouta forced the hand of the international community to disarm the Syrian government's chemical arsenal, but the conflict continues unabated. Warning: The videos presented can be extremely graphic.

Loading Voice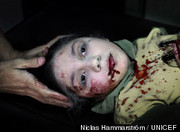 Award-Winning Photo Tells Us More About The Syria Crisis Than Any Statistic Can
08 Mar 01:05
For its 2013 Photo of the Year award, UNICEF chose a haunting image of an injured and bleeding Syrian child to underscore just how desperate the situation is for the youngest of refugees. It has been nearly three years since the conflict started...

Militant grip transforms, terrorizes Syrian city
07 Mar 16:27
Once a vibrant, religiously mixed community, Syria's eastern city of Raqqa is now a shell of its former self, terrorized by hard-line militants who have turned it into the nucleus of their vision for the Islamic caliphate they hope one day to...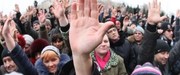 Activists: 17 rebels die in battle for Syrian town
07 Mar 16:25
Syrian activists say at least 17 rebels have been killed in a battle with government troops for an opposition stronghold near the border with Lebanon.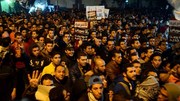 Saudi Arabia lists 'terror' groups, orders foreign fighters home
07 Mar 09:10
Saudi Arabia lists the Muslim Brotherhood and two Syrian jihadist groups as terrorist organizations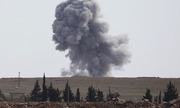 Syrian warplanes pound key rebel area - Region - World - Ahram Online
07 Mar 09:10
Syrian warplanes pounded an area near the rebel-held town of Yabrud near the Lebanese border Friday, a day after at least 17 jihadists were killed in fighting there, a monitor said.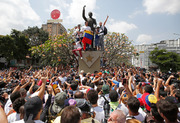 Where Protests End: From Ukraine to Venezuela : The New Yorker
06 Mar 18:24
What do the movements in Egypt, Libya, and Syria, and, in the past few days, Ukraine and Venezuela, leave behind?
A street art project paints a brighter future for Syrian refugee camps | Creative Boom Magazine
06 Mar 09:06
[Awareness & Prevention Through Art (AptART)](http://www.aptart.org/about/) is a not-for-profit organisation that aims to give vulnerable children an ...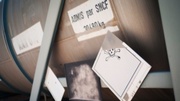 UN: Chemical Weapons Used in Syria From Military Stockpile
06 Mar 09:06
U.N. human rights investigators say chemical weapons used in two attacks in Syria last year appear to come from Syrian military stockpiles. The team of independent experts, led by Brazilian Paul...

Amid carnage of war, Syria readies for Assad re-election| Reuters
06 Mar 06:06
DAMASCUS (Reuters) - After three years of grinding conflict, the destruction of whole city districts and an exodus of refugees all triggered by an uprising against his rule, Bashar al-Assad is quietly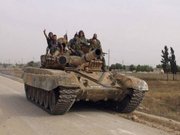 Syrian Army controls the southeast of al-Zara
06 Mar 06:05
    Syrian Arab Army has taken full control over the southeast of al-Zara town in Homs countryside. Al-Watan newspaper quoted military sources as saying that members of the Syrian Army have seized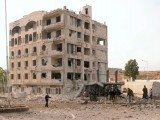 Security HQ blast in central Syria kills 5: NGO – The Express Tribune
06 Mar 06:05
Syrian state television reports that 22 were wounded.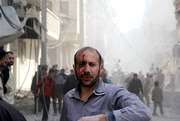 #Syria, – #NoFlyZone, Aleppo, the barrel of hatred | YALLA SOURIYA
06 Mar 05:05
https://fbcdn-sphotos-e-a.akamaihd.net/hphotos-ak-ash3/t1/s720x720/1947805_723485834338891_733193461_n.png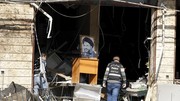 Hezbollah's 'Mini-Vietnam' in Syria Escalates With Beirut Bombs - Bloomberg
06 Mar 01:06
In Hezbollah's Beirut stronghold, shoppers are avoiding Osama Assaf's cakes.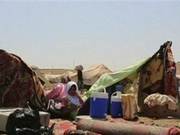 What Syrian people would like us to know - Video on NBCNews.com
05 Mar 10:07
Video on NBCNews.com: A recent NBC News poll shows that 45% of Americans didn't know enough about Syria to form an opinion over whether the U.S. should intervene. Lara Setrakian from SyriaDeeply.org tells The Cycle hosts how she's trying to help...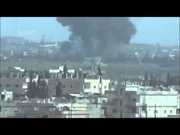 سمارت درعا النعيمة تصاعد الدخان جراء سقوط برميل متفجر من قبل الطيران الحربي على المدينة 5 3 2014
05 Mar 09:22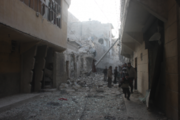 Conversations: My Pro-Assad Son Arrested His Pro-Rebel Brother | Syria Deeply – Syria News
05 Mar 03:06
When Um Ahmad talks about her sons, she shows a resigned remorse. "I don't see them anymore," she says about Ahmad, who chose to fight on the side of the government, and Mohammed, who became an opposition activist.

Syria and the myth of the exit strategy | The War Room
04 Mar 19:11
Why the insistence on an"exit strategy" really another way of simply avoiding hard decisions in places like Syria.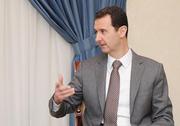 Assad rejects Kerry's framework agreement | i24news - See beyond
04 Mar 18:05
Syria rejects plan 'that affirms the idea of Israel as a Jewish nation-state' and which 'empties' Palestine - Syria, Bashar al-Assad, John Kerry, Israel, Israeli-Palestinian Conflict, Middle East Peace Talks, framework...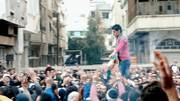 Homs - Ein zerstörter Traum | ARTE
04 Mar 13:05
Seit Herbst 2011 kämpfen der damals 19-jährige Baset und seine Kameraden aus Homs gegen Assads Truppen. Aus friedlichen Demonstranten werden bewaffnete Kämpfer, aus jungen Männern, für die Religion kaum eine Rolle spielte, werden im Angesicht...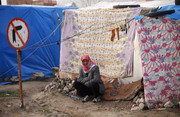 PHOTO: Syrian refugee in Kilis, Turkey, March 2 2014. #Kilis #Syria #SyrianCivilWar
04 Mar 13:05
PHOTO: Syrian refugee in Kilis, Turkey, March 2 2014. #Kilis #Syria #SyrianCivilWar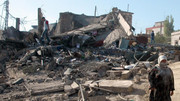 PHOTO: Damage to village of #Brital, #Lebanon, by rockets launched from #Syria 3 March. #SyrianCivilWar
04 Mar 13:05
PHOTO: Damage to village of #Brital, #Lebanon, by rockets launched from #Syria 3 March. #SyrianCivilWar

Powers to give Lebanon military, economic boost against Syria spillover| Reuters
04 Mar 11:05
PARIS (Reuters) - France is preparing to seal a multi-billion-dollar plan to help modernise Lebanon's armed forces as part of international efforts to stabilise a country hard hit by spillover from Syria's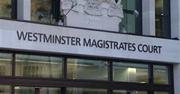 Student in English court on Syria terror charge
04 Mar 10:05
A 20-year-old student appeared in an English court on Tuesday charged with aiding terrorism in Syria.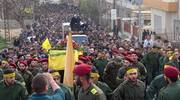 #Syria Hezbollah mercenary Hussain Othman' funeral in Lebanon… | YALLA SOURIYA
04 Mar 09:05
#Syria, Hezbollah mercenary - Hussain Othman' funeral in Lebanon https://fbcdn-sphotos-a-a.akamaihd.net/hphotos-ak-ash3/t1/q71/s720x720/1653881_848433448507428_1883058731_n.jpg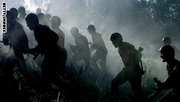 بوتين للغرب: تدخلنا في أوكرانيا سيكون شرعيا والعقوبات تضركم أيضا - CNNArabic.com
04 Mar 09:05
قال الرئيس الروسي فلاديمير بوتين إن بلاده لا تسعى إلى ضم إقليم القرم، وأن الشعب الذي يعيش في القرم يمكنهم تقرير مستقبلهم

Syria has relinquished about a third of its chemical weapons: OPCW| Reuters
04 Mar 09:05
AMSTERDAM (Reuters) - Syria has shipped out about a third of its chemical weapons stockpile, including mustard gas, for destruction abroad, the global chemical arms watchdog said on Tuesday.The Organisation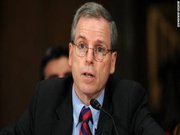 US Ambassador to Syria Robert Ford "the Syrian opposition is in a miserable situation"
04 Mar 07:08
  Speaking at a conference at Tufts University last night the Christian Science Monitor newspaper quoted " US Ambassador to Syria Robert Ford" as warning that a fractured rebellion, the presence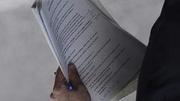 ماذا لدى الغرب من أدوات ضغط على روسيا - أخبار سكاي نيوز عربية
04 Mar 03:06
كشفت وثيقة تحدد موقف بريطانيا من الأزمة الأوكرانية، تم تصويرها بينما كان أحد المسؤولين يحملها إلى مقر الحكومة قبل اجتماع لمجلس الأمن...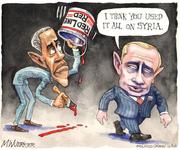 Political Cartoons: I think you used it all on Syria - 1 of 1 - POLITICO.com
04 Mar 03:05
A gallery of cartoons by POLITICO's Matt Wuerker.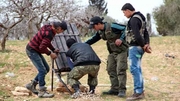 تقدّم نظامي نحو يبرود وتداعي فريق الابرهيمي - نيويورك - علي بردى جنيف - موسى عاصي - النهار
04 Mar 02:07
مع احراز القوات السورية النظامية تقدماً في قرية السحل ومزارع ريما القريبة من بلدة يبرود في منطقة القلمون بريف دمشق الغربي القريب من...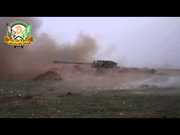 لواء أحرار الجبل الوسطاني قصف مواقع للنظام بالمدفعية الثقيلة في ريف حلب الجنوبي 2-3-2014 ج7
04 Mar 01:05