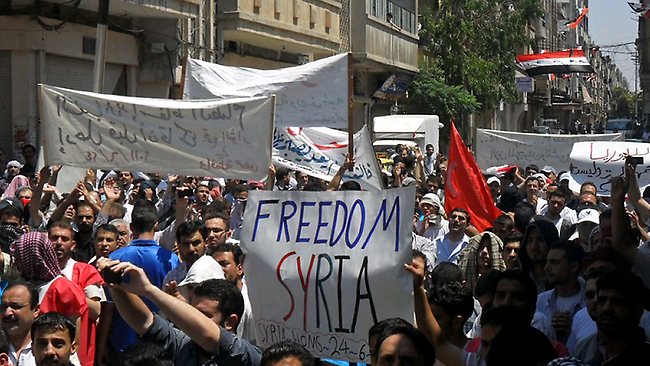 Protests in Syria
In Syria, what began as another chapter of the Arab Spring has deteriorated into a humanitarian catastrophe. Peaceful protests starting on March 15th, 2011 were met by the reigning Assad regime with violence and mass arrests. Popular uprisings soon became a full-scale civil war, resulting in over 100,000 casualties and the displacement of millions. Government air raids on rebel strongholds are frequently indiscriminate and result in numerous civilian deaths and massive damage to infrastructure. Army sieges on entire towns prevent access by humanitarian groups to provide necessary food and medical assistance to needy Syrians, resulting in widespread malnutrition and disease. Jihadist elements with extremist ideologies have capitalized on a lack of foreign intervention by waging successful campaigns against the Syrian army, resulting in both increased favor among rebel groups and the further discouragement of outside support. On August 21, 2013, a chemical attack on the Damascus suburb of Ghouta forced the hand of the international community to disarm the Syrian government's chemical arsenal, but the conflict continues unabated. Warning: The videos presented can be extremely graphic.

Loading Voice
أهل الشام | حلب ، الشيخ سعيد : تدمير مستودع للأسلحة لعصابات الأسد وحالش في معمل الاسمنت
24 Apr 11:06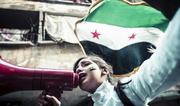 'You rape a woman, you rape the community' - Syria Direct
24 Apr 10:00
Of all the methods used in the Syrian war, from barrel bombs to chemical weapons to starvation and even homemade rockets, rape may be among the most damaging.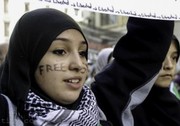 Risk and Reporting: The Dangers of Freelance Journalism in Syria | Mediashift | PBS
24 Apr 09:59
The death of Canadian freelance photographer Ali Mustafa while documenting the Syrian civil war illustrates the persistent problem of the safety of journalists in the country and, increasingly, the particular threats faced by freelance journalists...

An election in Syria: A bit of theatre | The Economist
24 Apr 07:06
THE Syrian regime likes to keep up the appearance of a constitutional state rather than one run by a family cabal girded by a ruthless security apparatus. So when...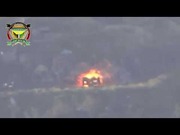 مميز - غرفة عمليات الفاتحين - لواء جيدور حوران : تدمير مدفع على تل الجابية قبل اقتحامه 24 - 4 - 2014
24 Apr 06:07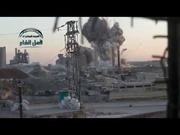 أهل الشام | حلب ، الشيخ سعيد : تدمير مستودع للأسلحة لعصابات الأسد وحالش في معمل الاسمنت
24 Apr 05:06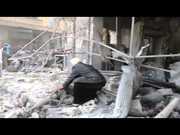 مجزرة سوق مدينة الأتارب نتيجة قصف الطيران الأسدي لسوق المدينة بالصواريخ الفراغية 24 4 2014
24 Apr 03:06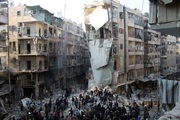 سراج برس | شظايا براميل الاسد تضيء ليل حلب
24 Apr 02:06
صعدت قوات النظام خلال الخمسة أيام الماضية من استهدافها المباشر للمدنيين في حلب، حÙ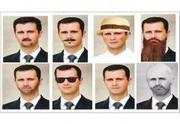 SYRIE • Le pluralisme selon Assad | Courrier international
24 Apr 02:05
 Alors que la date de l'élection présidentielle a été fixée au 3 juin prochain, des opposants distribuent cette photo au message transparent : "Tous les candidats s'appellent Bachar",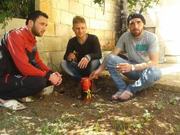 Perché i giovani di #Homs non vogliono morire | Diario di Siria
24 Apr 01:06
23 aprile 2014 - Homs "Ti svegli la mattina e sei circondato da persone che sembrano fiori, e ogni fiore ha il suo profumo, i loro colori sono diversi, alcuni sono accesi, altri più tenui. Sta a te, allora, essere come una farfalla che entra in un...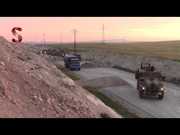 رتل تابع للقوات التركية أثناء مرورهم على حاجز كتائب شمس الشمال و توجههم إلى ضريح سليمان شاه
24 Apr 01:06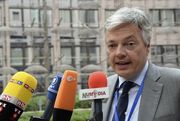 La Belgique se préoccupe aussi du djihadisme vers la Syrie
24 Apr 00:07
Alors que Paris présente, mercredi, son plan pour lutter contre le djihadisme, Bruxelles est confrontée au même phénomène.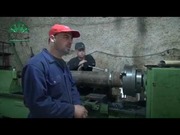 الجبهة الإسلامية مدفع جحيم قاذف البراميل المتفجرة مرعب مليشيات الأسد الأول في الثورة السورية.
23 Apr 22:06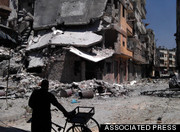 Syrians Are Starving To Death And That Is Unacceptable (VIDEO)
23 Apr 20:18
The leaders of five major United Nations agencies warned on Wednesday that the humanitarian situation in war-torn Syria is continuing to deteriorate, despite a February U.N. Security Council resolution that pressured authorities and rebels to allow...

Campaign to stop Britons joining Syria fight targets women| Reuters
23 Apr 19:11
LONDON (Reuters) - British police will ask women to help persuade young people not to go out to fight in Syria, in a new campaign to stem an exodus which authorities fear could breed militants at home.Hundreds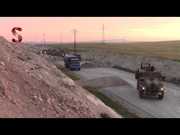 رتل تابع للقوات التركية أثناء مرورهم على حاجز كتائب شمس الشمال و توجههم إلى ضريح سليمان شاه
23 Apr 15:07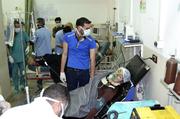 Syria Chlorine Attack Reports Raise Questions About Loopholes - NBC News
23 Apr 13:07
While Syria has pledged to rid itself of chemical weapons by the end of this week, an alleged chlorine attack has raised questions about what chemical tricks...

The child 'victims' of the civil war in Syria Anadolu Agency
23 Apr 13:06
The child 'victims' of the civil war in Syria According to international organizations, the biggest victims of the ongoing war in Syria are the children.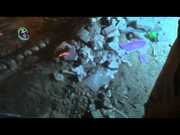 داريا 22-4-2014 قوات النظام تقصف بقنابل تحوي غازات سامة إحدى النقاط على الجبهة الشمالية
23 Apr 11:06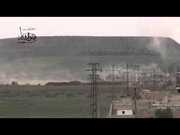 فيلق الشام || تفجير عربة داخل حاجز السلام في خان شيخون بعد استهدافه بمدفع جهنم المرعب وتحقيق اصابات
23 Apr 11:06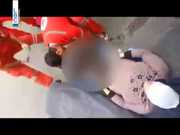 امرأة سورية تضع مولودها في الشارع بعد ان رفضت المستشفى ادخالها كونها لاجئة سورية في لبنان - لبنان
23 Apr 09:07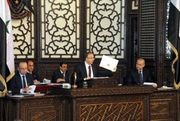 ماهر عبد الحفيظ حجار يعلن ترشيحه للانتخابات الرئاسية السورية - النهار
23 Apr 08:22
ماهر عبد الحفيظ حجار يعلن ترشيحه للانتخابات الرئاسية السورية