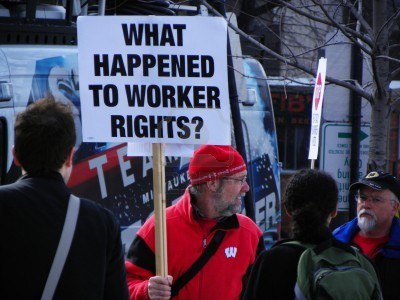 Business and Human Rights in the US
Globalization has afforded private corporations the potential to branch out and expand business across the world. In doing so, many businesses, especially in the United States, have turned a blind eye to the basic rights of those creating goods, often overseas. Workers are often underpaid, over worked, exploited, abused by employees, and forced to work in dangerous conditions. Big corporations, such as Walmart, have even been implicated in violating labor rights of overseas workers and in practicing gender discrimination.

Loading Voice

Pandora's Lunchbox: Pulling Back the Curtain on How Processed Food Took Over the American Meal | Democracy Now!
10 Mar 21:17
We look deep inside the $1-trillion-a-year "processed-food-industrial complex" to examine how decades of food science have resulted in the cheapest, most addictive and most nutritionally inferior food in the world. The vitamins added back to this...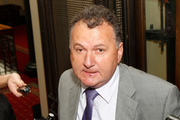 Copyright bill a 'Green agenda' - Business - NZ Herald News
12 Oct 15:20
Copyright changes proposed by a member of the Green Party could destroy jobs and is piss-taking business, says Labour's Shane Jones.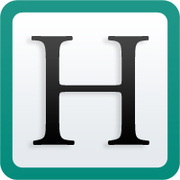 Frank Jannuzi: Want More Jobs in United States? Push China to Respect Human Rights
11 Oct 15:20
Factories built on land appropriated below legitimate market rates -- like those employing workers denied the right to organize, or those despoiling the environment due to a lack of oversight -- enjoy significant cost advantages, undermining the...

China hypocrisy: US critical on human rights, but happy to do business — RT
11 Oct 14:19
When it comes to human rights in China, the US talks tough but rarely takes action. But, the US is happy to do business in China.

Osborne's 'shares for rights' scheme full of holes, say unions | Politics | guardian.co.uk
09 Oct 07:21
George Osborne's plan to strip workers of rights in exchange for shares in firms will not create jobs or growth, GMB chief says

Coca-Cola's iconic branding is about to be overhauled as the company shouts out for new logo ideas |News.com.au
04 Oct 22:17
US RESIDENTS will have the chance to redesign one of the world's favourite drinks, giving them the chance for US$5000 and 'bragging rights' - just don't try to include the colour blue.

Supreme Court Debates Whether US Courts Can Take Human Rights Cases Overseas - ABC News
01 Oct 16:19
When a Supreme Court Justice tells you that a sentence in your brief is "striking," it's not always a good thing. In fact, for Paul L. Hoffman, a lawyer trying to win a case before the court, it was a very bad thing. Hoffman appeared before...

Human rights in focus at U.S. Supreme Court| Reuters
01 Oct 03:19
(Reuters) - The U.S. Supreme Court, back in session today after its summer recess, is expected to take up a closely watched case that could help it decide whether American judges are empowered to hear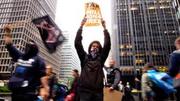 Inside Story Americas: Fired GM Workers Sew Mouths Shut in Colombia - LinkTV World News
25 Sep 15:30
Watch Next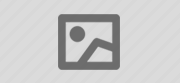 Colombian GM Workers on Hunger Strike Until Death Sew Their Mouths Shut
25 Sep 15:29
Thirteen auto workers in Bogotá, Colombia are completing their third week of a hunger strike they say they won't end until General Motors agrees to negotiate with their demands. (On Thursday, August 23 the strikers announced that GM had...

Report Says Samsung Violates Workers' Rights
25 Sep 15:29
NASDAQ News: Report Says Samsung Violates Workers' Rights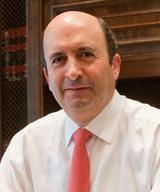 Mexican Company Embraces Globalization While Preserving Cultural And Business Roots | The Metropolitan Corporate Counsel
25 Sep 15:28
Trending Topics

Corporations and Worker's Rights — Global Issues
25 Sep 15:27
Labor and capital have often been at odds in recent centuries. Labor costs can be very high for companies who look to minimize costs wherever possible. However, in poorer countries in particular, local and multinational companies often flaunt human...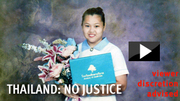 Burma: US Backtracks on 'Responsible Investment' Pledge | Human Rights Watch
25 Sep 15:25
(Washington DC) – The new United States government policy allowing business activity in Burma's controversial oil sector with reporting requirements will not adequately prevent new investments from fueling abuses and undermining reform, Human...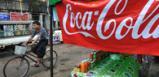 Business and Human Rights | Amnesty International USA
25 Sep 15:24
Companies have a responsibility to respect human rights. Amnesty International campaigns for corporate accountability and responsibility.

Walmart's Human Trafficking Problem | Human Rights Watch
25 Sep 15:24
Americans love shrimp, there's no doubt about it. Per capita consumption in the United States stands at about four pounds a year, the country's most consumed seafood.

The prison industry in the United States: big business or a new form of slavery?
25 Sep 15:23
Our mission is to unite every black family world wide ,We seek to foster a more unified and stronger black community in which our community is included and valued, by sharing ideas based on the challenges we .