Developments in Post-Gaddafi Libya
On October 20, 2011, Libyan dictator Col Muammar Gaddafi was captured and killed following a popular uprising ended his 42-year rule. Unfortunately, human rights abuses continued after the National Transition Council (NTC) took power. Even now, one year later, even as Libya finds itself ruled by a democratically elected leadership, thousands remain unlawfully detained, tortured, and sometimes killed, often by militias that refuse to disarm. Darker-skinned Libyans, sub-Saharans, and migrant workers are also displaced and being targeted after having been labeled mercenaries during the uprising.

More

Loading Voice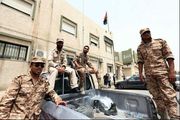 Anti-Gaddafi gunmen surround second Libya ministry - The Times of India
01 May 02:58
Gunmen demanding the sacking of former officials of the ousted Gaddafi regime surrounded the justice ministry, widening a campaign that began with a siege on the foreign ministry, an official said.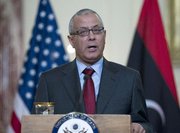 Storming ministries, Libya's militias put pressure - Yahoo! News
01 May 02:56
From Yahoo! News: TRIPOLI, Libya (AP) — Gunmen swooped in on trucks mounted with anti-aircraft guns and surrounded Libya's Justice Ministry on Tuesday, cutting off roads and forcing employees out of the building in the latest instance of powerful...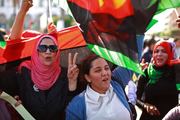 United Nations News Centre - Libya: UN urges political dialogue as gunmen overtake Ministries and other State institutions
01 May 02:56
The United Nations mission in Libya today said it is following the latest developments in the country where armed gunmen have overtaken the ministries of justice and foreign affairs, and other State institutions, and urged all Libyans to join the...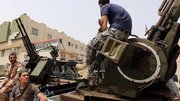 BBC News - Why Libya's militias are up in arms
01 May 02:53
Libya's disgruntled militiamen are flexing their muscles in the capital, Tripoli.

Armed men surround Libya foreign ministry
28 Apr 23:47
Armed men block the entrance of the foreign ministry in Tripoli yesterday.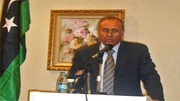 Libya: Qaddafi family in Oman to stay out of politics - Alarabiya.net English | Front Page
28 Apr 23:47
Oman has reassured Libya that members of killed dictator Muammar Qaddafi's family who are staying in the sultanate will not interfere in Libyan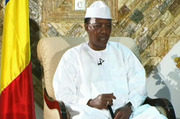 Chad says Libya not tackling 'mercenaries' - Africa - Al Jazeera English
28 Apr 23:47
Chad's president tells Al Jazeera that Tripoli has done little to curb training of Chadian fighters in Benghazi.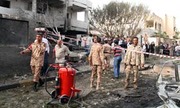 Libya faces growing Islamist threat | World news | The Guardian
28 Apr 23:45
Exclusive: Diplomats warn that militants squeezed out of Mali by western intervention are hitting targets in Tripoli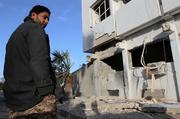 Blast hits police station in Libya's Benghazi | News , Middle East | THE DAILY STAR
28 Apr 05:38
BENGHAZI, Libya: An explosion hit a police station in the eastern Libyan city of Benghazi on Saturday, causing extensive damage but no casualties, a security source said.

French Embassy Is Attacked In Libya - Dashiell Bennett - The Atlantic Wire
23 Apr 07:42
In the biggest terrorist attack in Libya since the assault on the U.S. compound in Benghazi last September, a car bomb exploded outside the French embassy in Tripoli, wounding two French guards.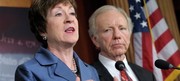 Intelligence agencies faulted for Libya fallout | ksl.com
18 Jan 15:59
The U.S. ambassador to Libya, Chris Stevens, and three other Americans were killed in the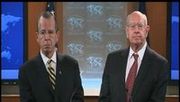 Libya Security 'Grossly Inadequate,' Report Finds: Video - Bloomberg
18 Jan 15:58
Thomas Pickering, a former diplomat and chairman of an independent review board investigating the Sept. 11 attack on the U.S. diplomatic mission in Benghazi, Libya, speaks at a news conference about the panel's report on the incident that killed...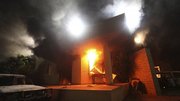 BBC News - Benghazi attack: US security chief Eric Boswell quits
18 Jan 15:57
A senior US security official has quit and three others are suspended after a damning report into a deadly attack on a US mission in Benghazi.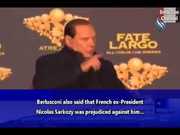 Berlusconi Admits Libya's Revolution was Manufactured & Driven by Sarkozy's Desire for Oil & Gas
18 Jan 15:57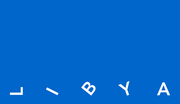 Without Security, Libya's Oil Cash Can't Buy Progress - Bloomberg
18 Jan 15:38
A failed petro-state in Libya remains a possible outcome of the revolution that began two years ago this week, and its potential consequences are already on display in Mali.

Libya Is Messy. So Was Eastern Europe in 1991. - Bloomberg
18 Jan 08:22
Two years ago, I was the son of a broken nation. For almost 40 years, I fought to bring freedom and basic human rights to Libya, only to see the regime of Muammar Qaddafi gain acceptance into the international community as the oppression continued....

Libya, Egypt make democratic gains in 2012 - U.S.-based watchdog| Reuters
17 Jan 08:19
KUWAIT (Reuters) - Countries whose leaders were overthrown in the Arab Spring revolts of 2011 mostly made democratic gains in 2012 but the uprisings triggered crackdowns elsewhere in the region, an annual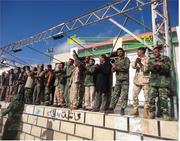 County Rd, Libya
16 Jan 14:20
FreeBenghazi: Peaceful protest by Jabal alAkhdar branch of #Libya Army calling for Yusuf Mangoush to be replaced as Chief of Staff http://t.co/LCsBOinD

Hundreds of Libyans call for autonomous east (PHOTOS, VIDEO) — RT
03 Nov 04:16
Over a thousand Libyans rallying for the autonomy of the oil-rich east have flocked to central Benghazi. Calls to divide Libya have met with stiff opposition from the government who brand them as foreign-inspired plots to weaken national unity.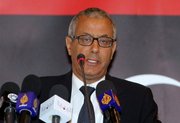 New Libya PM presents cabinet in test of democracy | Radio Netherlands Worldwide
30 Oct 11:19
Libya's new premier presented Tuesday a cabinet that includes liberals and Islamists, in a fresh test of the country's fledgling democracy after the 2011 armed uprising that ousted Moamer Kadhafi.Pri...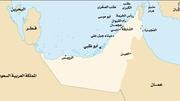 الإمارات: قرار البرلمان الأوروبي متحامل ومسيء - CNNArabic.com
29 Oct 04:15
صحف: إيران تلوح بمصير صدام و"سبونج بوب" للسعوديين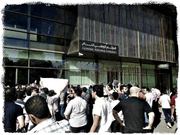 Libyans Condemn Slaughter of Civilians in Attack on Bani Walid | CounterPsyOps
25 Oct 17:17
Tripoli, the capital city of Libya is the scene of mass protests against the indiscriminate bombing of Bani Walid, where up to 100 civilians have died and hundreds been wounded, many be illegal chemical weapons, according to recounts published...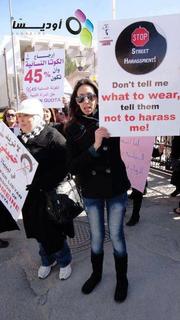 At women's protest in #Libya: "Don't tell me what... - Cynical Idealism
23 Oct 13:16
At women's protest in #Libya: "Don't tell me what to wear, tell them not to #harass me!"

Protesters storm Libyan parliament | World news | The Guardian
05 Oct 13:14
Demonstrators from Zawiya angry that proposed cabinet contains no ministers from their city

Libya PM-elect says withdraws proposed government list| Reuters
04 Oct 16:13
TRIPOLI (Reuters) - Libyan Prime Minister-elect Mustafa Abushagur said on Thursday he was withdrawing his proposed government list, just a day after he submitted it to the national congress for approval.Speaking

No Arab Spring Without the 'Flower' of Women's Rights - Al-Monitor: the Pulse of the Middle East
03 Oct 10:17
No Arab Spring Without the 'Flower' of Women's Rights Conference participants discuss women's rights issues in the Arab world, Oct. 2., at the Wo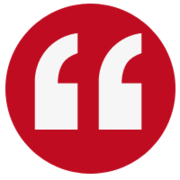 In Libya it's only been a year and the idea of...: ShortFormBlog
02 Oct 15:15
"In Libya it's only been a year and the idea of democracy and political parties is difficult for people to absorb. The people have not responded to this imported, packaged democracy. We don't..."

Lights, camera, revolution: the birth of Libyan cinema after Gaddafi's fall | Film | The Guardian
02 Oct 04:15
Libya had no film-making culture under Gaddafi: just a handful of cinemas and a propaganda machine. Days after a film sparked violence there, Steve Rose meets the new wave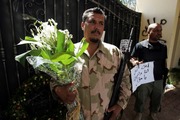 Libya's Volunteer Peacekeepers - By William Lawrence | The Middle East Channel
27 Sep 14:31
In the pre-dawn blackness of September 12, I hurtled toward Tunis Carthage airport en route to Tripoli. I was looking forward to seeing my friend Chris Stevens, the U.S. ambassador who had invited all nine members in our delegation representing the...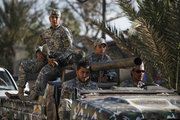 Libya Disbands "Illegitimate" Militias - By Mary Casey and Jennifer Parker | The Middle East Channel
27 Sep 14:30
Late Saturday, in response to public frustration, Libyan army chief, Yussef al-Mangoush, and national assembly leader, Mohamed Magrief, have ordered "illegitimate" militias to disarm and disband, giving the groups 48 hours before the army uses...

UNHCR | Refworld | Libyas leadership urged to prioritize human rights
26 Sep 04:20
Refworld is the leading source of information necessary for taking quality decisions on refugee status. Refworld contains a vast collection of reports relating to situations in countries of origin, policy documents and positions, and documents...

Libya: 10 steps for human rights: Amnesty International's human rights manifesto for Libya | Amnesty International
25 Sep 10:21
Libya: 10 steps for human rights: Amnesty International's human rights manifesto for Libya

Libyan Militia: Looters Took Anti-Aircraft Missiles During 'Protest' — News from Antiwar.com
25 Sep 09:17
Massive pro-regime rallies in the Libyan city of Benghazi were problematic, as demonstrators sacked the bases of several independent militias, including the Ansar al-Sharia group accused of an attack on the US consulate, likely destroying evidence...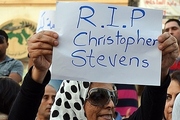 15 Photos Of Libyans Apologizing To Americans
24 Sep 12:18
15 Photos Of Libyans Apologizing To Americans: A peaceful demonstration from Benghazi, the Libyan city where a U.S. ambassador was kil...

Amnesty International | Libya's leadership urged to prioritize human rights
24 Sep 11:18
Libya's political leadership – including elected members of the General National Congress (GNC) – must take immediate steps to end ongoing human rights abuses and establish the rule of law, Amnesty International said today.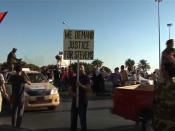 Libyan citizens protest militia groups - CBS News
23 Sep 13:39
CBS Evening News: Libyan citizens protest militia groups - Following the recent consulate attack, citizens sent a message to the armed men who refuse to give up their guns: "We've had enough of you"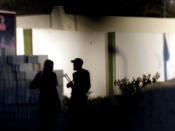 Libya moderates to protest powerful Islamic militias; Militia eyed in consulate attack plans counter demo - World Watch - CBS News
23 Sep 07:17
Moderates plan rallies to demand heavily-armed Islamic militias lay down arms, as militia calls protest for "our prophet" Read more by Tucker Reals on CBS News' World Watch.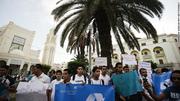 ليبيا: حل كتيبتين مسلحتين وإغلاق مقارهما في درنة - CNNArabic.com
23 Sep 03:17
أمريكا: سيدة تكتشف أن زوجها هو أبوها بعد وفاته

Libya's flames of fury
22 Sep 19:03
Galvanised by anger over the killing of the popular US ambassador, thousands of Libyans have marched through Benghazi demanding the disarming of militias that helped topple the dictatorship but have troubled the country with their refusal to disband.

Unarmed people power drums Libya's jihadists out of Benghazi | World news | The Observer
22 Sep 18:15
These were the incredible scenes in Benghazi as tens of thousands of ordinary citizens marched on the Islamic extremists in their compounds and drove them out with shouts, placards and sheer courage