Disparity in Kenya
Disparity in Kenya affects all aspects of life of Kenyans who besides a large income gap, have widely different access to social services like education and health, and political representation. According to 2004 statistics, the top 10% household of Kenya hold 42% of total income, while the bottom 10% control less than 1% of the wealth. There are also significant differences in average lifespan and literacy rates between different regions of Kenya. The causes for this far-reaching inequity are political corruption and nepotism, unequal government investment in different areas of Kenya and geography.

More

Loading Voice
In Africa, Wealth Breeds Rage - NYTimes.com
24 Jul 10:01
African economies are growing, but so is inequality. Huge disparities in wealth may take the Arab Spring south.

Education for All? The Political Economy of Primary Education in Kenya - CDDRL
25 May 19:10
Events Share on Facebook Share on Twitter Share on Google Education for All? The Political Economy of Primary Education in Kenya   Research Seminar...
allAfrica.com: Kenya: Inequality Deepens as Nairobi Ups Its Share of National Wealth
16 May 14:28
allAfrica: African news and information for a global audience
'Corruption has to be confronted from the grassroots' | Madeleine Bunting | Global development | guardian.co.uk
06 May 03:07
Leading Kenyan anti-corruption campaigner John Githongo talks to Madeleine Bunting
Raila urges NESC to focus on poverty and inequality
29 Mar 12:19
Prime Minister Raila Odinga has challenged the National Social and Economic Council (NESC) to come up with concrete policies that will ensure benefits of economic recovery reach all Kenyans.He urged the council to especially focus on poverty and...
Blog > Pulling Apart; Facts and Figures on Inequality in Kenya
17 Feb 10:11
Tax and Governance Network- EA Blog Pulling Apart; Facts and Figures on Inequality in Kenya Categories all (2) Recent Posts Pulling Apart; Facts an...
Kenya Poverty and wealth, Information about Poverty and wealth in Kenya
20 Jan 16:27
Kenya is a country characterized by abject poverty on the one hand and conspicuous wealth on the other. According to Miller and Yeager, the roots of inequality stem, in large part, from the colonial heritage
Marchers highlight Nairobi wealth gap - Los Angeles Times
20 Jan 16:23
More than 80,000 people gathered for an anti-capitalism conference in Nairobi, marching from Kibera, its largest slum, to the downtown area in a protest of global policies they say hurt the poor.
A Brief General Profile on Inequality in Kenya
20 Jan 16:18
Recent events in Kenya have cast a disturbing light on the depth and complexity of social distress in the country.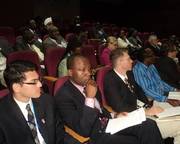 Census results confirm widespread poverty and income disparity in Kenya
20 Jan 16:16
Although Kenya has registered a massive population growth, its path towards becoming a developed world is hamstrung by challenges arising from poverty and income disparities. The outcome
Africa Expat Wives Club: Disparity of Wealth in Kenya
20 Jan 16:14
Living in Kenya as an expat can be weird at times, the truth is often stranger than fiction. The diary of a housewife who does no housework.
20 Jan 16:13
At the end of the day, the measure of success of Kenya's growth interventions anchored in its development blueprint Vision 2030 is bound to be judged on one data point--their ability to shove aside deepening inequality and poverty
SOCAP Europe
08 Dec 11:17
SOCAP is a multi-platform organization dedicated to the flow of capital towards social good. Our event series connects global innovators – investor...
Gender Based Violence in Kenya's Post-Election Crisis - Gender - Heinrich Böll Stiftung
19 Sep 13:11
Gender Disparity was experienced during the post election violence in 2008.
allAfrica.com: Kenya: Breaking the Conspiracy of Silence on Inequality
14 Sep 23:09
The furore over this one part of the census questionnaire obscures a more important subject – Kenya's persistent inequality.
IRIN Africa | KENYA: It's the economy, stupid (not just "tribalism") | East Africa | Kenya | Governance Health & Nutrition Conflict Refugees/IDPs | Feature
14 Sep 22:49
In Nairobi, more than 60 percent of the population live in slums, some of which lie a stone's throw away from the city's most luxurious houses.
Green Change : Violence in Kenya exposes tribes' widening wealth gap
14 Sep 22:41
Kenya now has among the world's least-equal distributions of wealth. Opposition politicians have been accused of playing up the disparity
Economic inequality fuels Kenya's violence
14 Sep 22:20
There is more to Kenya's post-election violence than a bungled vote count and "tribal rivalries:" Conflicts over access to land and housing are at the root of the unrest.
A poster for the short 1966 documentary, TWO FACES OF KENYA.
14 Sep 22:11
A poster for the short 1966 documentary, TWO FACES OF KENYA.
G21 AFRICA - "Inequality in Kenya - Part 1 of 2"
14 Sep 21:52
If it is true that inequality worsens at the initial stages of economic development, we have a reason to rejoice and smile. If not, we have a reason to worry. Whatever the truth, we still need to reduce inequality.
Daily Nation: - News |Fat cats used IDP cash to buy posh city homes
14 Sep 14:20
Police say PC and 22 DCs stole Sh500m meant for election violence victims.
Daily Nation: - News |UN cites 'vast' disparity in Nairobi child death rates
12 Sep 15:05
The World Health Organisation is citing child death rates in rich and poor parts of Nairobi as an illustration of "vast" health inequities within developing countries.
Arrival in Nairobi: witnessing Kenyan disparity | Christy Gillmore and Hakijamii in Kenya
09 Sep 13:21
I'm fortunate enough to have my fiancé, Louis Rezac, working with me for the summer at Hakijamii. We stepped off the Emirates flight into Nairobi almost a
Kenya's Poor Suffer Under Corrupt Government | News One
08 Sep 23:51
When Kenya promised free primary education in 2003, Peter Nyagilo thought he could afford to send all his kids to class.
ms.dk - How to understand inequality in Kenya
08 Sep 23:47
There are three foundational issues that need to be understood for a debate on inequality to be useful. First, there is the distinction between pov...
Kenya 'faces struggle in becoming a developed country' - World news - News - VSO International
08 Sep 23:44
Such inequalities has resulted in underemployment and unemployment among many Kenyans, often leaving them forced to turn to crime as a means of earning a living.