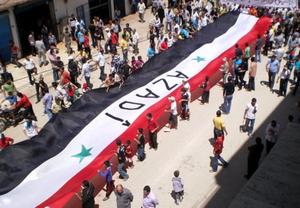 Kurdish Protests Against Assad
The Syrian protests have threatened the Assad regime since March, with the Kurdish minority playing a significant role in the protests. Despite sluggish support from the Kurdish leadership, Kurdish youth gathered in the thousands on a regular basis in the Kurdish majority regions of northern Syria. On Friday, 7 October, the Syrian regime assassinated a prominent Kurdish activist and a member of the Syrian National Council, Meshaal Tamo. In reaction, hundreds of thousands of Kurds and Arabs rallied in the streets in solidarity. His death marks a new stage in the Kurdish involvement with the protests against Assad.

Loading Voice

Syria's Kurds face uncertain future if Assad falls | World news | guardian.co.uk
14 Dec 18:23
The regime's exit from Kurdish areas has sparked mistrust between the rebels and Syria's third biggest ethnic group

KurdWatch.org reports human-rights violations against Kurds in Syria
12 Dec 15:13
KURDWATCH, December 9, 2012—On November 9, 2012, the Democratic Union Party (PYD) took over numerous institutions in the city of ad‑Darbasiyah

Hevallo. Turkey and The Kurdish Question. And Rojava Kurdistan!: Syria and the Denial of Kurdish Rights!
06 Dec 08:14

Border Tensions: Syrian Conflict Raises Kurdish Specter For Turkey
16 Oct 09:13
As the confrontation between Turkey and Syria escalates, Ankara is readying not only for possible war against Syrian President Bashar Assad, but also against Kurdish separatists. Turkey fears they may be emboldened by the situation in Syria and...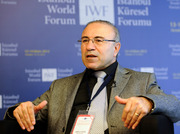 Kurdish leader warns if the regime lives, a regional war may occur | Middle East | World Bulletin
16 Oct 07:12
TURKEY NEWS, WORLD NEWS

Turkey's Conflict with Kurdish Militants Heats Up Amid Syria Tensions | World | TIME.com
16 Oct 02:11
The police station in Sirnak, a town of 60,000 in southeastern Turkey, remains almost entirely covered with blue tarp, obscuring the damage done to its edifice nearly two months ago when a group of Kurdish militants — seven or eight of them,...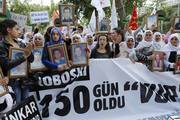 A Kurdish Spring in Turkey and Syria? - Worldpress.org
09 Sep 20:34
Kurdish armed groups are using the conflict in Syria as an opportunity to further arm themselves and enact a round of attacks against the Turkish Army.

Kurds in Aleppo leaving Sheikh Maqsood district Anadolu Agency
09 Sep 20:32
IRBIL (AA) - September 9, 2012 - The High Council of Kurds in Syria on Sunday condemned the military operations of the Assad administration and stated that the Kurds living in Sheikh Maqsood district of Aleppo were leaving the region.
Ankara and the Syrian Buffer Zone | Defense Update Portal
09 Sep 20:31
In the wake of the steady disintegration of the Assad regime, Syrian opposition activists reported that several towns, such as Amouda and Qabani in Syria's Kurdish populated north eastern region had passed in mid-July 2012 without a fight into the...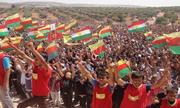 Rudaw in English....The Happening: Latest News and Multimedia about Kurdistan, Iraq and the World - Deadly Attack Claims Many Lives in Aleppo's Kurdish Sector
09 Sep 20:31
On Thursday 21 Kurdish civilians were killed in the Aleppo neighbourhood of Sheikh Maksud when Syrian forced shelled an area near the Marouf mosque. Dozens of others were injured in the attack and a number of homes were destroyed. This has...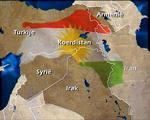 The Struggle of Syria's Kurds
09 Sep 20:27
A look at the views, stances and actions of Syria's Kurdish population with regard to the current civil war in that country.

Syrian Kurds demand more rights | World | DW.DE | 05.09.2012
09 Sep 20:25
Syrian Kurds are becoming more vociferous in their demands for more rights as the conflict in Syria drags on. Many say their time has come now that the Assad regime is severely weakened.

Syria funeral is focus of Kurdish anger - latimes.com
09 Sep 20:25
Syria funeral is focus of Kurdish anger A bombing in Aleppo that killed a woman, two of her children and their young cousin triggers outrage among Ku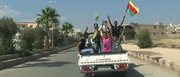 Syrian Conflict Gives Kurds New Freedom | Middle East Voices
07 Sep 18:46
As fighting continues in the Syrian cities of Aleppo and Damascus, the Syrian government has withdrawn its troops from several Kurdish areas in the north.

Where were you, Syria? | Alliance for Kurdish Rights
09 Aug 19:11
09 Aug 2012 More Options Tweet Where were you, Syria? by Naila Bozo It was raining my first day in Qamişlo. Small puddles were forming in the street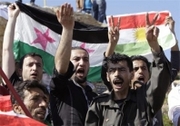 Syria's Kurds Unite against Assad, but Not with Opposition - The Washington Institute for Near East Policy
01 Aug 06:14

Lebanon news - NOW Lebanon -Syria's Kurds seek unity ahead of uncertain future
27 Jul 11:12
Syria's Kurds, hostile to a regime that has oppressed them and suspicious of the opposition, were putting aside differences to unite and manage their

MEI Editor's Blog: Syria's Kurds Going Their Own Way; Turkey Concerned
25 Jul 18:11
A Blog by the Editor of The Middle East Journal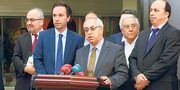 Ankara not fretting over Kurdish rule in Syria, for now
24 Jul 13:11
Since last Wednesday, when the defense minister and two other senior officials of the Syrian administration were killed in a major attack in Damascus,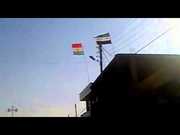 وحدات البيشمركة تجتاز الحدود العراقية السورية وتحتل معابر حدودية وبلدات عامودا والدرباسية
22 Jul 19:24