Modern Day Slavery in Brazil
Brazil's poor often face deplorable working conditions and what amounts to slavery. This is rampent across Brazil, with many of these workers unable to leave the work camps at which they are employed. Workers face "debt slavery" as employers demand that workers reimburse them via work for housing, food, and other costs. Cattle owners and sugar cane employers notoriously expose their workers to inhumane and harsh working conditions, including by forcing them to work excessively long hours without breaks in unsanitary environments that often have no toilets, food or water. Many of these workers end up seriously injured due to a lack of training as related to dangerous machinery. A nationwide anti-slavery plan that was implemented in 2003 has helped set regulations for labor and has led investigations into allegations of abuse. Employers found to have violated workers' rights are put on a "dirty list".

More

Loading Voice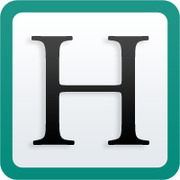 Kelly Heinrich: Who Benefits From Modern Slavery? You Do
27 Dec 00:13
Slavery is happening across the globe and it ends up in your home. It could be the jewelry you're wearing, the shrimp you had for dinner, the shoes on your feet, the phone in your pocket, or the Christmas decorations adorning your tree.

Brazil, Colombia Grappling with Racism that Keeps Blacks on Bottom
06 Nov 16:27
For decades, Brazil touted itself as the most racially diverse society in the world, celebrating the idea that there was no racism in Brazil because its so
IPS – Brazil Takes Steps to Confiscate Property of Landowners Using Slave Labour | Inter Press Service
30 Oct 14:11
PEC 438 would allow the government to confiscate the property of owners caught using slave labour. The property confiscated would be turned over to the government's agrarian reform programme, in the case of rural land, or to social initiatives in...
World Report 2012: Brazil | Human Rights Watch
30 Oct 14:10
The federal government has taken important steps to eradicate forced labor since 1995, including creating mobile investigation units to examine conditions in rural areas and publishing a "black list" of employers found to have used forced labor....
International Labour Organization: Search Services
30 Oct 14:09
International Labour Organization: Brazil Section

Ford, GM and BMW linked to illegal logging and slave labour in Brazil | Environment | guardian.co.uk
30 Oct 14:08
"By buying this steel, these well-known brands are helping to destroy the Amazon," said Greenpeace Brazil Amazon campaign director Paulo Adario in a statement. "President Dilma [Rousseff] must protect the Amazon and the people who depend on it by...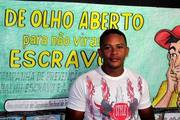 Brazil workers exploited in modern-day slavery in Amazon - Los Angeles Times
30 Oct 14:02
After months of chopping down trees in the forest without pay and living on rice, beans and dirty water, Gil Dasio Meirelles decided he had to escape from the remote clearing in the middle of the vast Brazilian Amazon.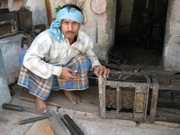 Debt Bondage: Yet Another Form of Slavery | Global Breakthrough
30 Oct 13:59
In Brazil, workers are promised good wages to work on ranches or in logging camps in the Amazon. When they arrive, they are told they must repay the cost of transportation as well as that of food and lodging. Interest rates against their meager...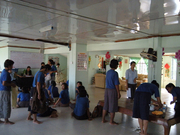 World Report 2012: A Landmark Victory for Domestic Workers | Human Rights Watch
30 Oct 13:58
If someone had told me 45 years ago that we would be here today, I would not have believed it. We do not have to be slaves anymore.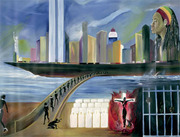 The menace of slavery
30 Oct 13:54
THERE ARE more people in slavery today than in any time in human history. The best estimate is 27 million, and that does not include bonded labour.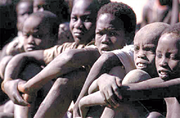 A tipping point in the fight against slavery? | The Trinidad Guardian Newspaper
30 Oct 13:53
In Brazil, a nationwide anti-slavery plan set out in 2003 introduced changes in regulation and labour inspection laws that have resulted in the freeing of thousands of slave workers. Employers are put on an official "dirty list" if they are...

Brazil's approach provides template for ending child labour — SOS Children
30 Oct 13:50
Overall, the UN would like to see more countries adopting the approach which has worked so well in Brazil, where the poorest families are paid a monthly allowance which is conditional on their children attending school. To extend such a cash...

More slaves now than at any other time in history - thestar.com
30 Oct 13:46
It is increasingly more difficult for big companies to get away with using clandestine suppliers. In Brazil, employers are put on a "dirty list" if they are found out.

Brazil comes to terms with its slave trading past | World news | Guardian Weekly
30 Oct 13:42
Groundworks for the 2016 Olympics bring questions of ethnicity to the surface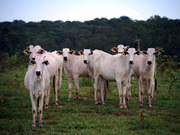 Revealed: how our shoes are linked to deforestation and slavery in the Amazon - The Ecologist
30 Oct 13:42
Europe is the world's largest importer of leather shoes but much of the leather itself comes from cattle farms deep in the Brazilian Amazon, where farms use slave labourers and where slaughterhouses do not respect workers' safety. Ida Dalgaard...