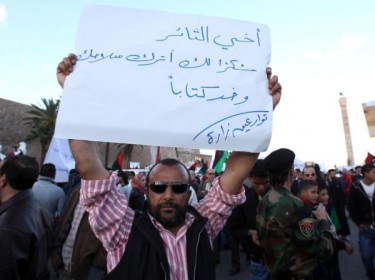 #OccupyTripoli and the Disarmament Movement
Both Tripoli civilians and the interim Libyan government have started a campaign to to disarm revolutionary fighters, or else ask them to leave Tripoli. After the fighters' victory over Muammar Gadhafi, there have been reports of clashes between different factions of fighters, and of gang-like behavior that has hassled civilians. Hundreds of civilians have began to protest this behavior in Tripoli, and the interim government has given the fighters until December 20th to disarm.

Loading Voice

The tools that could disarm Libya's militias | Peter Fragiskatos | Comment is free | guardian.co.uk
07 Sep 18:16
Peter Fragiskatos: A weapons exchange programme could help Libya begin to break the power of the militias and establish the rule of law

ليبيا: يجب على الميليشيا إطلاق سراح أعضاء الهلال الأحمر الإيراني | Amnesty International
07 Sep 18:16
اختطاف سبعة من أعضاء الهلال الأحمر الإيراني على يد مجموعة من المسلحين الليبيين أمر يبعث على القلق العميق، وعلى الخاطفين إطلاق سراحهم...

Libya: Militia stranglehold corrosive for rule of law | Amnesty International
07 Sep 18:16
Ongoing human rights violations in Libya are casting a shadow over the country's first national elections since the fall of al-Gaddafi.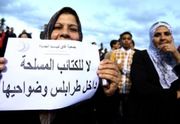 سكان طرابلس يتظاهرون احتجاجا على فوضى انتشار السلاح - روسيا اليوم
08 Dec 00:06
ذكرت وسائل اعلام ان مئات الليبيين خرجوا في مظاهرة يوم 7 ديسمبر/كانون الأول في العاصمة الليبية طرابلس

UPDATE 1-Protesters back Tripoli militia expulsion| Reuters
07 Dec 23:29
* Militias given until Dec. 20 to leave town * Militiamen say they agree in principle with deadline * Success would be boost to new provisional government (Recasts with evening protest, militia comment,

Dec 7, 2011 8:52pm | Facebook
07 Dec 23:20
مظاهرات طرابلس ميدان الشهداء 7/12/2011 تنادي بخروج المليشيات المسلحة الدخيلة عن طرابلس بالخروج منها ..

Dec 7, 2011 8:52pm | Facebook
07 Dec 23:04
مظاهرات طرابلس ميدان الشهداء 7/12/2011 تنادي بخروج المليشيات المسلحة الدخيلة عن طرابلس بالخروج منها

Libya Transitional Government Imposes Lockdown in Tripoli, Demands Weapons |
07 Dec 23:02
National Transitional Council sought to impose control over local militias and demanded that residents give up their weapons by the end of the month.

Libyans Protest Against Former Rebels « VOA Breaking News
07 Dec 22:40
Hundreds of Libyans gathered in the capital, Tripoli, Wednesday to protest against former rebel fighters who took part in the ouster of former leader Moammar Gadhafi months ago but are still camping out in the capital. The protesters waved Libyan...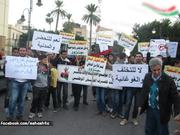 393221_202444523170726_158425407572638_425854_1968686798_n.jpg
07 Dec 22:38
393221_202444523170726_158425407572638_425854_1968686798_n.jpg

#Follow #Syria: Video #Libya "NO TO WEAPONS, YES TO FREEDOM!" #Tripoli :Great 2 see #PeoplePower & #FreedomOfSpeech in New Libya
07 Dec 22:38
Video #Libya "NO TO WEAPONS, YES TO FREEDOM!" #Tripoli :Great 2 see #PeoplePower & #FreedomOfSpeech in New Libya

Tripoli's rebels given deadline to lay down guns and leave town - International - Scotsman.com
07 Dec 22:32
LIBYAN authorities have given rebel militias a fortnight to hand over security in the capital and go home. The uncontrolled ownership of weapons has been a major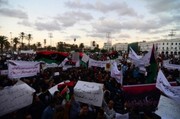 A huge crowd turned out to protest against carrying weapons. Photo credit: Aziz Belhaj from Twitter
07 Dec 22:30
AgFNAwgCMAAtlOv-375x248.jpg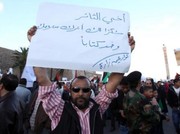 A protester carrying a sign which reads: Dear Revolutionary, Thank your for leaving your weapon behind and carrying a book. Photo Credit: @4Adam on Twitter
07 Dec 22:29
AgFFFRcCQAA0clR-375x280.jpg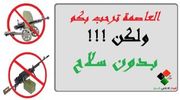 Libya: #OccupyTripoli Protests Against Carrying Weapons · Global Voices
07 Dec 22:27
Libya: #OccupyTripoli Protests Against Carrying Weapons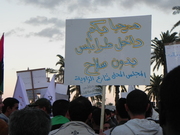 Banner: Welcome to #Tripoli without arms. #DisarmTripoli #OccupyTripoli #Tripoli #Libya
07 Dec 22:26
Banner: Welcome to #Tripoli without arms. #DisarmTripoli #OccupyTripoli #Tripoli #Libya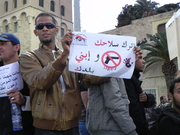 Banner : Discard your weapon and build your country. #MartyrsSq #DisarmTripoli #OccupyTripoli #Tripoli #Libya
07 Dec 22:26
Banner : Discard your weapon and build your country. #MartyrsSq #DisarmTripoli #OccupyTripoli #Tripoli #Libya