Political Repression in Burma's Elections
Burma's upcoming elections on 7 November 2010 will not bring democracy, security, or national reconciliation to the country. The 2008 constitution was forged in an exclusive, undemocratic and non-reconciliatory manner and is an institutional tool perpetuating military rule under the domination of the armed forces. Activists who have previously fought against the regime have been severely oppressed by the authorities. There are currently over 2,200 political prisoner as well as thousands of activists in Burma who operate in fear. Despite SPDC threats, activists inside Burma have braved repressive conditions and carried out anti-election campaigns.

More

Loading Voice
U.N. Envoy: Burma Not Addressing Abuse - TIME
26 May 03:10
The United Nations' human rights envoy to Burma said the country's nascent civilian government has done little to address widespread abuses.
Kim visit highlights China ties to shunned regimes - Yahoo! News
25 May 11:10
Visits to Beijing this week by top officials from North Korea, Myanmar, and Iran are spotlighting China's cozy ties with nations widely shunned for human rights abuses and threatening behavior.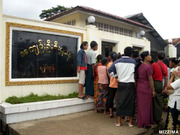 Three journalists released under presidential commutation « democracy for burma
25 May 11:10
Three journalists released under presidential commutation May 25, 2011 tags: Burma, Human Rights, Junta, Lu Tin Win, Myanmar, Thaung Win Bo, Three ...
Myanmar's sex worker clinics offer solace from stigma - Yahoo! News
22 May 19:06
When Thida Win contracted HIV after selling her body on the Yangon streets, it was her fellow sex workers that she turned to, not Myanmar's crumbling health service.
Amnesty International: Demand the Three Freedoms for Burma
21 May 19:11
I just sent an email to the governments of 9 nations calling for freedom of expression, assembly and association in Burma. You should too!
EU Sanctions On Burma: What Next? – Analysis Sripathi Narayanan « democracy for burma
21 May 11:09
EU Sanctions On Burma: What Next? – Analysis Sripathi Narayanan May 21, 2011 tags: Analysis, Burma, EU, Human Rights, Myanmar, sanctions, Sripathi ...
Support the Release of Zarganar and the Removal of a Work Ban on U Kyaw Thu in Burma - The Petition Site
21 May 11:08
ZARGANAR is Burma's most famous social satirist and activist. A former dentist (hence his  stage... (518 signatures on petition)
Zoya Phan
20 May 11:12
Zoya Phan is a 28-year-old ethnic Karen refugee from Burma. As a teenager she was forced to flee her country after her village was attacked by the ...
Myanmar to get RI rifles | The Jakarta Post
20 May 03:09
Defense Minister Purnomo Yusgiantoro says the government hopes to sell Indonesian-made SS-2 assault rifles to Myanmar. "[Myanmar] looked at the ...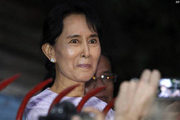 Suu Kyi wants full time UN envoy for Myanmar - World News - IBNLive
20 May 03:08
Pro-democracy leader Aung San Suu Kyi wants a full time UN representative to Myanmar, the UN Security Council was told.
HBO Documentary 'Burma Soldier' Reveals Life Under Junta - TIME
19 May 11:11
In a rare and nuanced glimpse into life under Southeast Asia's most notorious military regime, a new HBO documentary airing on May 18 follows a Burmese rank-and-file soldier turned political activist
Help Ler Wah Lo Bo Obtain his Canadian Permanent Residence Status - The Petition Site
19 May 11:10
Lo Bo has been living in Canada since 2002 and seeks his Canadian permanent residence so he may travel and visit his chi
World News Australia - 3 die in clashes in Burma
08 Nov 07:34
At least three civilians have died in a clash between rebel troops and government soldiers in a town in eastern Burma.
Bangkok Post : Thailand's silence on Burma poll is deafening
08 Nov 07:31
Thai and foreign media held their breath when Prime Minister Abhisit Vejjajiva made his first official trip to Burma just weeks before the country's first elections in 20 years. The visit turned out to be nothing more than a business trip, with the...
Myanmar election offers no comfort for refugees - World - Macon.com
08 Nov 07:28
It's no wonder that Saw Tun Wai has little desire to return to Myanmar, even after upcoming elections that its military rulers describe as a step toward democracy.
Myanmar: Myanmar's split opposition | The Economist
08 Nov 07:27
Twenty years later, Myanmar is preparing for multi-party elections this weekend. Junta leaders have taken off their uniforms to run under the banner of the United Solidarity and Development Party (USDP).
Burma says no to independent election observers, but what about diplomats? | World news | guardian.co.uk
08 Nov 07:26
In his fourth blogpost, the British ambassador to Burma explores the difficulties of monitoring the upcoming election
Aung San Suu Kyi's possible release attracts as much interest as the polls | World news | guardian.co.uk
08 Nov 07:25
As elections near, people ask me whether she is relevant to Burmese politics after so long. The answer is yes
Asia Sentinel - Shooting Breaks Out in Burmese Karen Area
08 Nov 07:24
Residents in Myawaddy expressed fears the Burmese Army would launch a full-scale offensive on Karen rebels who have taken key positions in the town
Minorities at risk in Burma election
08 Nov 04:09
To avoid increasing ethnic tensions in the Burma election this weekend the authorities should address the marginalisation of minority groups, says an international rights group. + Statement from 17 European organisations supporting human rights and...
West Nations Reject Burmese Elections 2010
08 Nov 04:08
The western countries have rejected the Burma's first general election 2010, terming these as neither free nor fair.
Burma Partnership » Waihnin Pwint Thon Speaks for Burma and Political Prisoners at the UK Labour Party Conference
29 Sep 07:35
The issue of Political Prisoners and Burma has taken centre stage today at the annual British Labour Party conference being held in Manchester, UK....
Crackdown widened on anti-elections campaigns | Democratic Voice of Burma
25 Sep 03:17
Five youths have been arrested in Rangoon after police caught them distributing leaflets calling for a boycott of the 7 November elections
Than Shwe's 'Final Solution' for ethnic Burma | Democratic Voice of Burma
24 Sep 03:28
The international community has never paid proper attention to what happens in ethnic areas of Burma. The Burmese army's attacks against civilians – even the shooting and killing women and babies
Will general election in Burma change anything? - Malaysiakini
24 Sep 03:23
If anything, the military junta seems to have learned its lessons from past uprisings to enforced even stricter controls on the people.
Free Prisoners, Myanmar Urgerd | Manila Bulletin
24 Sep 03:21
Leading rights groups have urged Myanmar to free all political prisoners ahead of elections in November
Political prisoners in Myanmar must be freed | Amnesty International
24 Sep 03:19
On the third anniversary of the violent crackdown on the "Saffron Revolution", the authorities continue to hold over 2,200 people arrested for their peaceful activism.
Myanmar urged to free political prisoners - UPI.com
24 Sep 03:18
More than 2,000 political prisoners remain behind bars in Myanmar three years after the "Saffron Revolution," Amnesty International said Thursday.
MYANMAR – CHINA Beijing gives US$ 4 billion loan to strengthen its presence in Myanmar - Asia News
24 Sep 03:15
The loan, which is interest-free, was agreed in a meeting between Myanmar strongman Than Shwe and Chinese President Hu Jintao, in early September. Government official says money will lead to development. Expert says that the situation of ordinary...
Burma: 22nd Anniversary of Military Coup – Boycott Junta's Sham Elections
24 Sep 03:14
Burma Democratic Concern (BDC) calls for the international community to support Daw Aung San Suu Kyi led genuine democratic and ethnics groups calling for to boycott junta's sham 2010 election.
Pro-junta party rejects talk of support | Democratic Voice of Burma
24 Sep 03:13
One of the two main pro-Burmese junta parties running in elections this year has said that accusations of a close relationship with the military generals are false.
Elections 'a cynical process of fake regime change'
24 Sep 03:11
Human Rights Watch Asia section senior researcher David Scott Mathieson on Tuesday described Burmese elections in November as an "elaborate scheme to ensure future power for the military".
Indiana University expert: Don't pin hopes on Burma's upcoming elections:IU News Room: Indiana University
24 Sep 03:10
The international community will be making a mistake if it focuses on encouraging Burma's military government to hold "free and fair" elections in November, says an Indiana University law professor who has advised the Asian nation's ethnic...
Ghana News: Accra Mail : World Burma Election, Refugees and Media's Role
24 Sep 03:08
A day-long media workshop on the forthcoming military sponsored election in Burma (Myanmar) and its implication on hundred thousand Burmese refugees will take place in the Indian capital on September 27.
Burma Election: Should Opposition Boycott the Vote? - TIME
24 Sep 03:07
Aung San Suu Kyi's party calls to boycott the Nov. 7 election, but some opposition politicians choose to take part, arguing any window of political opportunity in Burma is better than none
Suu Kyi 'can vote' in Burma elections | Democratic Voice of Burma
24 Sep 03:07
Opposition icon Aung San Suu Kyi will now be allowed to vote in 7 November poll, according to government official
Aung San Suu Kyi has been banned from taking part in elections in Burma in November. Photo: EPA
24 Sep 03:05
Aung San Suu Kyi has been banned from taking part in elections in Burma in November. Photo: EPA
Rohingya refugees don't want an election; they want a place to call home
24 Sep 02:45
Burmese Rohingya refugees say they are not willing to go back home to participate in the November 7th elections
Will general election in Burma change anything? « San Oo Aung's Weblog
24 Sep 02:42
The military junta in Burma has set Nov 7 as the day for the 'general election' in the military-ruled country in South-East Asia.
Ethnic leader predicts united armed struggle after Burma's election
24 Sep 02:41
Exclusion of ethnic groups from the coming general election in Burma will lead to a consolidation of rebellious armed forces along the border with ...
Burma's elections to be held on township basic, not population basic
24 Sep 02:32
Elections conducted on township basic could put candidates who will be contesting for the 7 November polls in trouble and difficulties for their contestants
Radio Australia:Connect Asia:Story:China seeking stability in Burma, regardless of elections
24 Sep 02:29
Burma's military government may not have many friends in the West, but the country's energy resources and
BBC News - Indifferent mood greets Burma polls
24 Sep 02:28
There are six weeks to go before Burma's first election in 20 years, but many feel that the result is already clear.