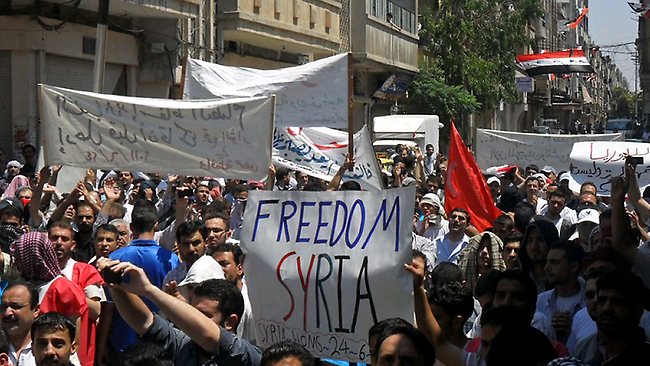 Protests in Syria
In Syria, what began as another chapter of the Arab Spring has deteriorated into a humanitarian catastrophe. Peaceful protests starting on March 15th, 2011 were met by the reigning Assad regime with violence and mass arrests. Popular uprisings soon became a full-scale civil war, resulting in over 100,000 casualties and the displacement of millions. Government air raids on rebel strongholds are frequently indiscriminate and result in numerous civilian deaths and massive damage to infrastructure. Army sieges on entire towns prevent access by humanitarian groups to provide necessary food and medical assistance to needy Syrians, resulting in widespread malnutrition and disease. Jihadist elements with extremist ideologies have capitalized on a lack of foreign intervention by waging successful campaigns against the Syrian army, resulting in both increased favor among rebel groups and the further discouragement of outside support. On August 21, 2013, a chemical attack on the Damascus suburb of Ghouta forced the hand of the international community to disarm the Syrian government's chemical arsenal, but the conflict continues unabated. Warning: The videos presented can be extremely graphic.

Loading Voice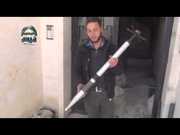 أوغاريت حلب أهل الشام حلب ، جولة في المباني التي تحريرها من عصابات الأسد في جمعية الزهراء
17 Apr 14:05

Exclusive: Syria submits more 'detailed' list of chemical weapons| Reuters
17 Apr 13:05
BEIRUT/THE HAGUE (Reuters) - Syria has submitted a more specific list of its chemical weapons to the global regulator overseeing the destruction of its stockpile after discrepancies were reported by inspectors

Syria negotiator says Homs once again a 'theater of death'| Reuters
17 Apr 12:06
BEIRUT (Reuters) - International mediator Lakhdar Brahimi said on Thursday that a deal between trapped fighters and civilians in Homs city and the Syrian authorities had broken down, as government forces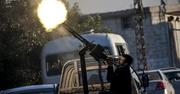 NGO: Syria rebels attack army barracks in Aleppo
17 Apr 10:05
Syrian rebels on Thursday attacked one of the largest military barracks in the country, in northern Aleppo, the Syrian Observatory for Human Rights said.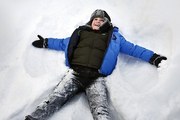 Meet The 9-Year-Old Boy Who Found Sanctuary From The Horrors Of Syria In Snowy Sweden
17 Apr 04:05
"I just want to live a new life, far from violence, killing, and war." ..
La France demande une enquête pour crimes de guerre et crimes contre l'humanité en Syrie
17 Apr 00:06
Après la révélation d'un rapport attestant des tortures pratiquées par le régime syrien, Paris demande au Conseil de sécurité de l'ONU de saisir la Cour pénale internationale.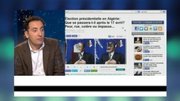 Moyen-Orient - Crimes de guerre en Syrie : la France veut faire saisir la CPI - France 24
17 Apr 00:06
<p>Paris va proposer une résolution au Conseil de sécurité de l'ONU pour que la Cour pénale internationale (CPI) soit saisie de "tous les crimes" de guerre commis en Syrie. Une requête qui a toutefois peu de chances d'aboutir.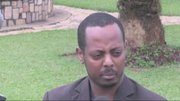 Middle east - Syria 'torture' photos silence UN Security Council members - France 24
16 Apr 19:11
<p>Members of the United Nations Security Council have viewed gruesome pictures of prisoners allegedly tortured by Syrian government forces.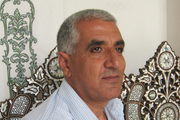 'The true worth of our presence' – Syrian lawyers risk detention and death in the name of justice | Amnesty's global human rights blog
16 Apr 17:06
'The true worth of our presence' – Syrian lawyers risk detention and death in the name of justice Posted on 16 April 2014 by Josefina Salomon S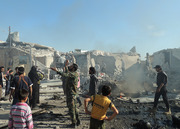 Horrific deterioration of conditions in Aleppo - Syrian Arab Republic | ReliefWeb
16 Apr 15:08
Norwegian Refugee Council seeks an immediate end to the indiscriminate bombing, a humanitarian truce, access for relief supplies and safe evacuation of civilians and the wounded.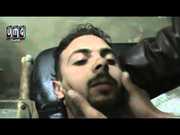 حرستا | اصابات نتيجة تعرض المدينة للقصف بالغازات السامة للمرة الثالثة بأقل من 20 يوم 16-4-2014
16 Apr 13:07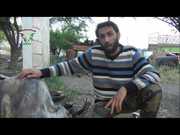 هاام للإعلام عناصر كتيبة الهندسة تؤكد استعمال النظام الغازات السامة في مدينة كفرزيتا للمرة الرابعة 1
16 Apr 13:07