Save Rosia Montana!
The Save Rosia Montana Campaign is the connection between a local opposition in Rosia Montana, Romania, manifested in the association Alburnus Maior, and activists from all over Romania fighting against Europe's biggest, to be, opencast gold mine planned in Rosia Montana. Rosia Montana is a village in the Apuseni Mountains, Transylvania region, Romania, and it is the oldest documented mining settlement in Romania (about 1,880 years old). 'Alburnus Maior' is a grassroots NGO based in Rosia Montana village, Transylvania Region, Romania. It was founded in September 2000 and it regroups 300 families of peasants from Rosia Montana village and Bucium neighbouring village, to oppose the largest gold mine proposal in Europe which entails the destruction of Rosia Montana and its surroundings. Alburnus Maior is the initiator of the 'Save Rosia Montana' campaign. The association's opposition is based on social, environmental, cultural and economic grounds. Strong local opposition to the gold mining project emerged almost immediately in the year of 2000 when Canadian junior mining company, Gabriel Resources, announced its intentions to destroy the historic village of Rosia Montana by building the largest opencast gold mine in Europe. Resistance to the project has since spread across Romania. During over 10 years of resistance, Alburnus Maior, through the Save Rosia Montana Campaign has successfully mobilized thousands of people and has so far kept the mine from being realized.

More

Loading Voice

Save Rosia Montana! Gold versus green tug-of-war - a set on Flickr
10 Oct 09:35
Images from an action held by Bankwatch and local activists in Timisoara in solidarity with community resistance against the Rosia Montana gold extraction project in Romania. We staged a tug-of-war between gold and green, with the slogan 'Which side...

Actiune de protest: Cianura face legea in Guvernul Ponta - YouTube
10 Oct 04:38
Cyanide does the law in Ponta Administration! Today, the 3rd of October 2012, a groups of ten Romanian activists protested at Romania's Government against cyanide based mining in Romania. The activists shut down the institution's activity and...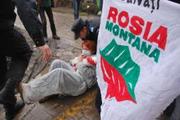 Save Rosia Montana Campaign - > THE MINISTRY OF ENVIRONMENT PUT UNDER QUARANTINE!
10 Oct 04:34
Environment contaminated by cyanide and corruption in advanced state! Bucharest, 15 March 2012 – The Save Rosia Montana campaign's civic health inspectors declared quarantine at the Ministry of Environment's headquarters. Access to the...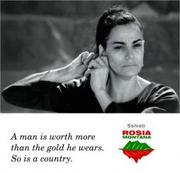 Save Rosia Montana Campaign - > Maia Morgenstern for Rosia Montana. The Save Rosia Montana mobilization video which amazed Romania
10 Oct 04:06
A man is worth more than the gold he wears. So is a country. Save Rosia Montana! - this is the strong call for public awareness for which the video presented by Maia Morgenstern was launched on Friday – 15th of June, in support of the Save Rosia...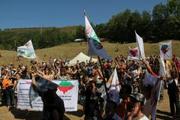 Save Rosia Montana Campaign - > The Solidarity Square Message Rosia Montana - cyanide-free zone
10 Oct 02:23
20 August 2012 – Over 4000 participants took part at FanFest between the 15th to 19th of August. The seventh edition celebrated 10 years since the Declaration of Rosia Montana, the first solidarity manifestation with the locals that oppose the...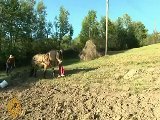 Romanians oppose gold mining plan - Video Dailymotion
09 Oct 17:05
A Canadian owned mining company says it plan to open four new gold mines in the Romanian village of Rosia Montana that will boost the economy of the east-European country.However, Rosia Montana Gold Corporation's project has been met by opposition...

Romanians protest against gold mine plan| Reuters
09 Oct 16:54
* Critics say gold mine will harm western Romanian town* Town residents rally in favor of the project* Anti-govt protests held for the past two weeksBy Luiza IlieBUCHAREST, Jan 28 (Reuters) - Hundreds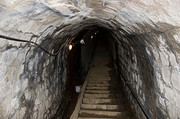 Romania's Rosia Montana Mining Project: another example of the policy pitfalls of resource extraction | Politics in Spires
09 Oct 16:54
Remembering Manuel Fraga – politician and guardian of Spanish conservatism Slackers and Saviours, Kony 2012 > Romania's Rosia Montana Mining Proj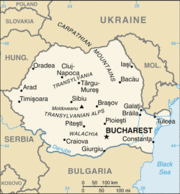 Country Focus: The Mineral, Metal and Fuel Resources of Romania
09 Oct 16:50
Romania, with a total population of 21,848,504 as of July 2012, is located in Southeastern Europe, bordering the Black Sea, between Bulgaria and Ukraine. The country mostly has a temperate climate and covers a total area of 238,391 km<sup>2</sup>.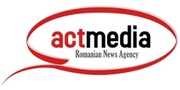 Environment Minister: Rosia Montana Project must observe legal provisions | ACTMedia
09 Oct 16:49
The Rosia Montana Project is a project of national interest and its assessment is currently in progress, but till the procedure of financial guarantees is not c...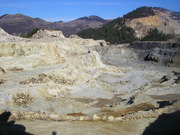 BBC latest to pick up on Romania's Rosia Montana gold mine debate | Daily news in English from Romania - Romania-Insider.com
09 Oct 16:34
The BBC has picked up on the ongoing Rosia Montana gold mine saga, describing it as a "Romania's decade long gold-war."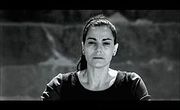 Maia Morgenstern campaings against gold mine at Rosia Montana in aggressive commercial - Panorama News - Romanian Times Online News - English Newspaper
09 Oct 16:33
"A man is worth more than the gold he wears", is the motto of the campaign who pleads for the preservation of the environment in Rosia Montana, an area under UNESCO protection.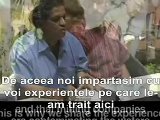 Death,Gold and Cyanide for Rosia Montana(Romania)HD - Video Dailymotion
09 Oct 16:32
Video: Death,Gold and Cyanide for Rosia Montana.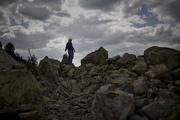 Romania: Rosia Montana Threatened by Gold Mining | Pulitzer Center
09 Oct 16:31
Rosia Montana is one of the oldest, continuously settled gold-mining sites in Europe. In 106 AD the Roman Emperor Trajan finally conquered the unruly kingdom of Dacia, north of the Danube, a territory that roughly encompasses present-day Romania,...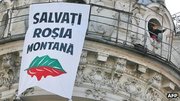 BBC News - Rosia Montana and Romania's decade-long 'gold war'
09 Oct 16:30
The Transylvanian town of Rosia Montana has been at the centre of a long-running debate in Romania, as politicians consider whether to give the green light to a large opencast gold mine in the region.

No Dirty Gold
09 Oct 16:29
Local opposition to the mine is based in part on the disastrous experience at the Baia Mare gold mine in Romania, where a cyanide spill in 2000 polluted the Tisza and Danube Rivers, contaminating the drinking water supplies of 2.5 million people and...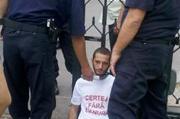 Save Rosia Montana Campaign -
09 Oct 16:28
October 3rd, 2012, Rosia Montana - This morning ten environmental activists chained themselves to Victoria Palace gate demanding for the Government's immediate action to stop cyanide-based mining projects in Romania. The protest comes after the...

Expoziţia "Patrimoniul de la Roşia Montană în imagini" la Casa Ion Mincu « igloo media
09 Oct 15:59
« Massimo Mariani. Cabel Industry Expoziţia "Patrimoniul de la Roşia Montană în imagini" la Casa Ion Mincu Casa Ion Mincu, recent restauratÄ

Expozitia de fotografie "Patrimoniul din Rosia Montana in imagini" ajunge si in Bucuresti | Romania Pozitiva
09 Oct 15:59
Casa Ion Mincu, recent restaurata, si Gradina OAR sunt incepand de marti - 9 octombrie - ora 19:00 - gazda expozitiei de fotografie Patrimoniul din Rosia

Expoziţia "Patrimoniul din Roşia Montană în imagini", vernisată în Casa Ion Mincu | Stiri Acum / News Now
09 Oct 15:59
Expoziţia de fotografie Patrimoniul din Roşia Montană în imagini a fost vernisată marţi seara în Casa Ion Mincu, recent restaurată, şi Grădina OAR.