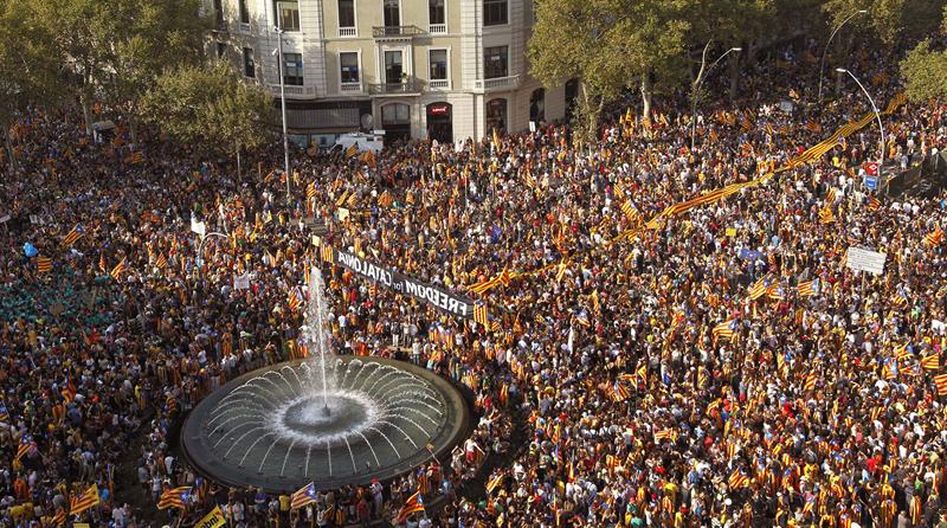 The Catalonian Struggle
The economic crisis in Spain's has led some to seek separation, especially as many believe that it pays more to Madrid than it receives. In 2012, the regional government announced it would begin preparing for a referendum on independence. Madrid, however, has insisted it will not accept any pro-independence vote outcome. We want freedom for Catalonia. We just want to vote and decided our future.

Loading Voice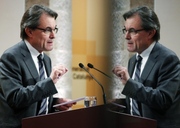 Artur Mas scrambles to build a coalition for Catalonia after setback at polls - Top stories - Scotsman.com
30 Nov 20:36
THE leader of Catalonia's Convergencia i Unio (CiU) party, which finished with the most seats in the regional election on Sunday, reached out to potential coalition partners yesterday in his first major speech since the vote.

Separatist parties win Catalonia election - Livemint
26 Nov 20:34
Push for referendum on independence loses steam as Catalan president falls far short of majority backing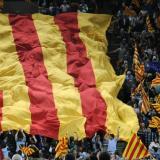 Catalonia votes in struggle over nationhood - FOCUS Information Agency
26 Nov 20:34
Barcelona. Independence flags fluttering from balconies, Catalans voted Sunday in a snap election that could set their region on a path to divorce from Spain, AFP reported.

Separatists win Catalonia elections but lose parliament seats | New Europe
26 Nov 20:33
Separatists led by regional president Artur Mas, won yesterday's elections in Catalonia, Spain but lost 12 seats in the parliament. The centre-right Convergence and Union alliance (CiU) saw its parliamentary majority fall to 50 seats from 62. The...

Catalonia tales: 'Spain is like a father forbidding his son from leaving home' | World news | guardian.co.uk
26 Nov 20:32
Jon Henley: As Catalonia prepares for a vote which could redraw the map of Spain, Jon Henley goes in search of ordinary people's stories. Here he talks to young people and first-time voters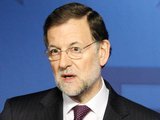 Election boosts push to split off Catalonia - Washington Times
26 Nov 20:31
Voters in Spain's wealthy Catalonia region Sunday sliced the majority held by a nationalist alliance in snap elections, giving strong gains to left-wing parties that favor independence, exit polls said.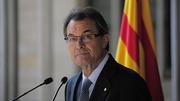 Catalonia's gambler Mas fails with his biggest bet yet | Iberosphere | Spain News and Portugal News - Information and Analysis
26 Nov 20:30
The Catalan premier's poor showing in regional elections is a major setback for his separatist plans. But Mas's manoeuvring over the last three months has brought independence into the mainstream.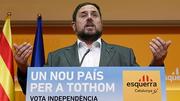 Fragmented vote in Catalonia's election | euronews, world news
26 Nov 20:29
A glum Artur Mas greeted his supporters from a balcony in Barcelona. Far from winning an absolute majority, his centre-right CIU party has lost 12 seats in Catalonia's regional…

Catalonia votes in struggle over nationhood - Livemint
26 Nov 20:28
The vote could drive a wedge in Spain as it fights a deep economic crisis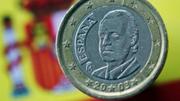 Sky News: Spain faces the loss of Catalonia
26 Nov 20:27
Catalonia's leader Artur Mas says the powerful region's economy can stand tall in Europe without Spain. But could Spain survive without Catalonia?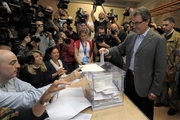 Separatists win regional elections in Catalonia - World News
26 Nov 20:26
Separatists in Spain's Catalonia won regional elections on Sunday but failed to get the resounding mandate they need to push convincingly for a referendum on independence.  Catalan President Artur Mas, who has implemented  …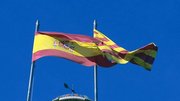 BBC News - Independence dominates Catalonia election
26 Nov 20:26
A bitter and hard fought election campaign in Catalonia was dominated by the issue of independence from Spain.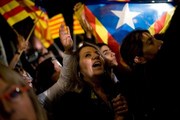 Catalonia Votes: Why the Region's New Pro-Independence Majority Won't Guarantee Separation from Spain | TIME.com
26 Nov 20:22
Well, that was confusing. Two months after Catalonia's regional president Artur Mas called snap elections to gauge support for his proposed referendum on secession from Spain, Catalans went to the polls yesterday and largely voted, as expected,...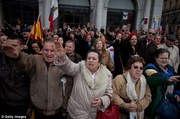 Catalonia holds historic election that could lead to independence from crisis-torn Spain | Mail Online
26 Nov 18:18
The girl was among crowds in Madrid performing fascist salutes as Catalans - repressed under General Franco's rule - voiced their desire to quit Spain at the polls.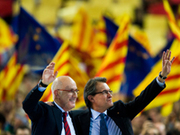 Why the Catalonia Election Results Should Worry Markets — Business News - CNBC
26 Nov 18:13
The results of elections in Catalonia, potentially a break-away state from Spain, seemed to assuage market concerns about the region on Monday.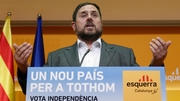 Spain: separatist victory in Catalonia | euronews, world news
26 Nov 18:07
world news - In Catalonia, Spain, the Republican Left (ERC) are the big winners from Sunday's regional election. The party jumped from 11 to 21 seats in the 135-seat local parliament. The…

Catalonia independence timetable: 'Once it has started it cannot stop' | World news | guardian.co.uk
26 Nov 17:44
Catalan voters are expected to return a pro-independence majority to the regional parliament on Sunday. Then a referendum will be held within two years, says one campaigner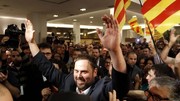 Catalonia edges towards Spain split
26 Nov 17:44
MADRID: Pro-independence parties in Catalonia won Sunday's regional vote, strengthening a drive for a referendum on secession in defiance of the Spanish Prime Minister, Mariano Rajoy.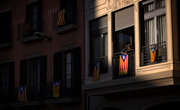 Scottexalonia Rising - NYTimes.com
26 Nov 17:43
BANNERS at FC Barcelona's Camp Nou soccer stadium have long declared: "Catalonia is not Spain."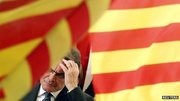 BBC News - Catalonia election: Separatists win majority
26 Nov 17:11
Voters in Spain's Catalonia region have given a majority to parties seeking Catalan independence.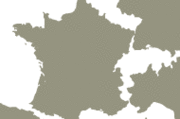 Catalonia Goes Own Way From President Artur Mas - NYTimes.com
26 Nov 17:10
The decision to call a vote two years ahead of schedule backfired for Artur Mas, the president of Catalonia, who was apparently punished by voters for trying to shift the debate away from his unpopular austerity measures.

Independence for Catalonia? - NYTimes.com
16 Nov 21:50
Catalans' fervor for regional independence is at a height, but their leaders should be careful not to overdraw popular expectations.

Catalonia elections 2012 – Spain set for showdown in battle for independence | World news | guardian.co.uk
16 Nov 21:39
As Catalonia prepares for a vote which could redraw the map of Spain, Jon Henley goes in search of ordinary people's stories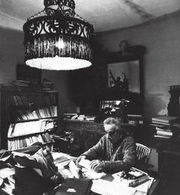 Reescriure Joan Sales a partir del centenari
16 Nov 19:29
Dilluns 19 de novembre farà exactament cent anys del naixement de Joan Sales. L'escriptor continuarà sent motiu d'actualitat durant els pròxims mesos i anys a partir d'una biografia, una novel·la inèdita i les adaptacions al cinema i al teatre...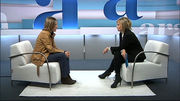 Eulàlia Martí: "La política ha de ser altruista, i projectar solucions a llarg termini"
16 Nov 19:28
Té 43 anys. Nascuda a Tarragona i membre del Centre de Regulació Genòmica, Eulàlia Martí forma part del col·lectiu de persones més formades, moltes de les quals han de marxar a l'estranger. El 66% dels catalans amb estudis universitaris...

Cayo Lara (IU): "Defensarem que estem millor junts dins un estat federal, però mai ens ha fet por la democràcia"
16 Nov 14:30
El líder d'Izquierda Unida ha dit al costat de Joan Herrera que està a favor de fer un referèndum, i que ell votarà en contra de la independència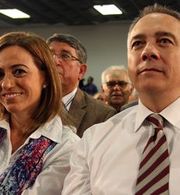 Chacón: "Pels diners i els desfalcs, a CiU no li importen les fronteres, les fronteres ens les posen a nosaltres"
16 Nov 14:27
L'exministra acusa el Govern de posar Catalunya "en el focus de la corrupció"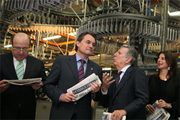 Guanyarà les eleccions Mas o 'La Vanguardia'?
16 Nov 14:20
El Grup Godó ha assumit altes cotes de partidisme polític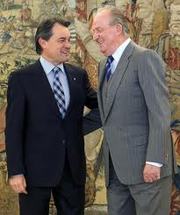 Regeneración. CiU y PSC hacen propaganda electoral en lengua árabe
16 Nov 13:55
clases medias, politica, elecciones, noticias, actualidad, islam, psoe, pp, actualidad politica
Convergència anuncia una querella criminal contra 'El Mundo'
16 Nov 13:52
Els nacionalistes denuncien que les "mentides" sobre Mas i Pujol "atempten" contra el que representa CiU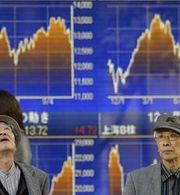 L'Íbex-35 queda atrapat en el nus baixista de les borses europees
16 Nov 13:26
La prima de risc ignora la tendència negativa dels mercats borsaris i tanca la setmana orbitant al voltant dels 450 punts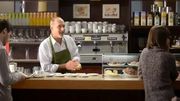 El PP fa una crida a la "Catalunya real" per frenar la majoria absoluta de CiU amb un nou anunci
16 Nov 12:28
Presenten un nou anunci televisiu en què s'expliquen les relacions entre ciutadans diversos en un bar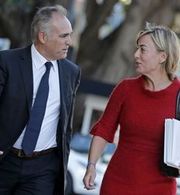 El govern valencià suggereix a l'alcaldessa imputada d'Alacant que dimiteixi, però deixa la decisió a les seves mans
16 Nov 12:27
El vicepresident valencià reitera que l'acta de diputat o de regidor és personal i que ni el partit ni la Generalitat Valenciana no tenen competències per destituir cap càrrec públic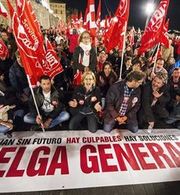 Els sindicats demanen a Rajoy per carta que refaci els pressupostos i abandoni la "prepotència"
16 Nov 12:27
Els sindicats UGT, CCOO, USO i Intersindical han enviat una carta conjunta per demanar-li que es faci enrere en la seva política econòmica després de l'"amplíssima participació" del 14-N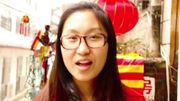 'Nihao Catalunya': joves xinesos defensen la independència
16 Nov 12:27
La iniciativa prové de dos joves catalans que fan la volta al món i pengen vídeos del viatge a una pàgina web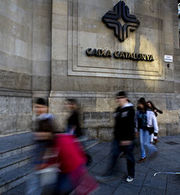 EL Banc d'Espanya reprèn la subhasta de CatalunyaCaixa després de cinc mesos
16 Nov 12:26
La comissió rectora del Fons de Reestructuració Ordenada Bancària (FROB) va suspendre'n la venda al juny per les auditories al sector de les consultores Roland Berger i Oliver Wyman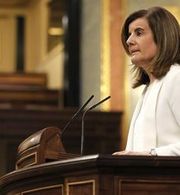 La lluita contra el treball irregular anul·la més de 20.000 contractes falsos
16 Nov 11:25
El ministeri de Treball i Seguretat Social detecta a l'octubre 1.174 empreses fictícies, un 443% més que l'any passat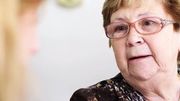 Una àvia reivindicativa, protagonista del nou vídeo electoral d'ICV sobre la crisi "causada pel gran capital"
16 Nov 11:25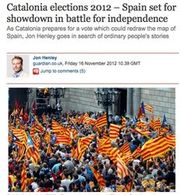 'The Guardian' busca testimonis catalans per a un reportatge sobre el 25-N i l'independentisme
16 Nov 08:26
El periodista John Henley fa una crida a través de la web del diari britànic i de Twitter per contactar amb ciutadans del carrer que expressin el seu punt de vista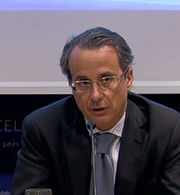 El vicepresident econòmic del Barça afirma que "Qatar Airways invertirà diners en l'aeroport de Barcelona"
16 Nov 08:26
Faus ha explicat que el contracte permet a Qatar fer aquest canvi de patrocinador a la samarreta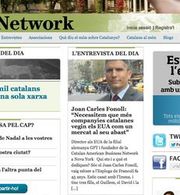 Neix l'ARA Catalan Network, un espai de cocreació que connecta els catalans al món
16 Nov 07:35
Impulsem i estrenem una xarxa que permetrà conèixer l'activitat internacional creixent dels catalans i posar-los en contacte entre ells i amb la resta del país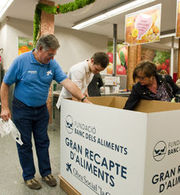 L'ARA busca iniciatives solidàries veïnals
16 Nov 07:35
La crisi estimula la generositat dels ciutadans, que es posen en el lloc dels més necessitats. Busquem iniciatives solidàries que hagin sorgit de veïns que volen ajudar altres veïns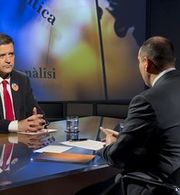 L'entrevista a López Tena supera el mig milió d'espectadors i lidera la seva franja
16 Nov 07:35
El retard en l'emissió perjudica 'Caçadors de bolets' i 'Polònia', que tot i així mantenen el domini del 'prime time'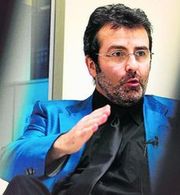 Sala i Martín lidera un nou grup d'economistes per la independència
16 Nov 07:35
Sis catedràtics creen el Col·lectiu Wilson per combatre les "campanyes de desinformació"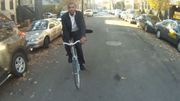 'Someday we'll all be free': el segon vídeo de Sharif
16 Nov 07:35
Sharif, el suposat i misteriós veí de Nova York que assegura que es va quedar sorprès quan va veure la gran manifestació de l'Onze de Setembre, ...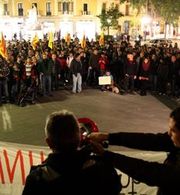 El pare de la menor colpejada a Tarragona, als Mossos: "Abans d'aixecar la porra hi ha la paraula"
16 Nov 07:35
Unes 200 persones es concentren a la Rambla Nova en protesta per la càrrega policial d'aquest dimecres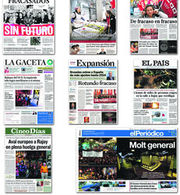 Els diaris de Madrid, polaritzats per la vaga
16 Nov 07:34
La premsa conservadora de Madrid va aprofitar la vaga general per erosionar la imatge dels sindicats. En totes les capçaleres afins al PP es repeteix en portada la mateixa idea: fracàs.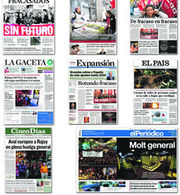 Els diaris de Madrid, polaritzats per la vaga
16 Nov 07:34
La premsa conservadora de Madrid va aprofitar la vaga general per erosionar la imatge dels sindicats. En totes les capçaleres afins al PP es repeteix en portada la mateixa idea: fracàs.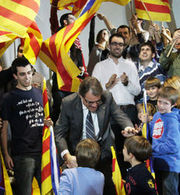 Mas retocarà la imatge de la seva campanya al tram final
16 Nov 07:34
CiU implantarà canvis a la imatge de campanya d'Artur Mas de cara a l'última setmana abans del 25-N. El candidat planifica una reunió pel dret a decidir amb els sindicats si surt reelegit a les urnes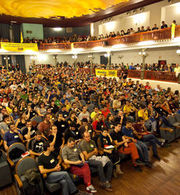 La CUP rep el suport d'una desena d'organitzacions polítiques i socials
16 Nov 07:33
La Candidatura d'Unitat Popular, que acumula més de 100 regidors en més de 70 municipis, presenta els suports rebuts en les darreres setmanes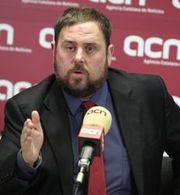 Junqueras afirma que gent "sense escrúpols" dins de CiU posa "pals a les rodes" a Mas cap a l'estat propi
16 Nov 07:33
El candidat d'ERC denuncia que el PSC accepti el dret a l'autodeterminació "del Sàhara Occidental, de Palestina, del Quebec, de tothom sempre i quan no sigui la de Catalunya"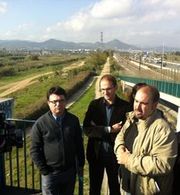 Herrera diu que gràcies a Iniciativa, i a molts d'altres, Eurovegas no es farà a Barcelona
16 Nov 07:33
El líder ecosocialista ha visitat el Parc Agrari del Baix Llobregat en el mateix punt que la mà dreta de Sheldon Adelson es va fer la foto fa uns mesos