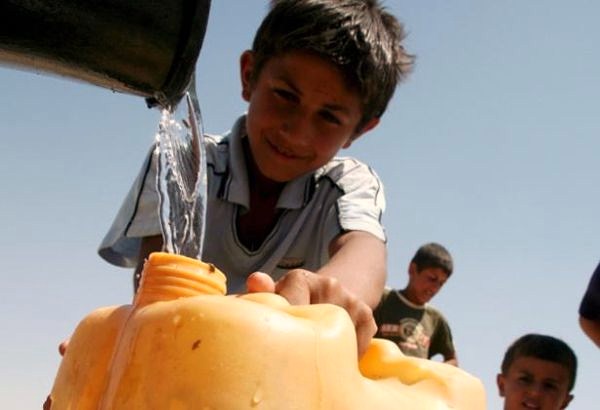 Water Shortage in Gaza
Gazans are facing an even bigger threat than Israeli bombs and soldiers, and that is a severe water crisis. Overpopulation, leaky infrastructure, poor management, the 2009 Israeli war, and Israeli settlements usurping prime water resources have all contributed to Gaza suffering from a thirst that is crippling its economy and threatening it's people. By 2015, Gaza will not have a single drop of potent water left.

Loading Voice

Alresalah News | Water outage..a new crisis bothers Gazans
26 Aug 13:13
In the strife-stricken Middle East, oil has always been in the realm of politics. But in the Israeli-occupied territories of Gaza and the West Bank, oil has been supplanted by water.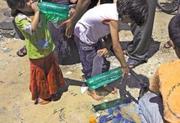 Palestinian National Authority - Ministry Of Interior
13 Aug 17:26
Municipality of Gaza has appealed the citizens to rationalize water consumption and no extravagance in it to ensure the access of water for all and to avoid a crisis.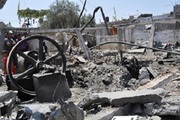 Israel targeting Gaza water infrastructure « Aletho News
13 Aug 17:24
The Emergency Water Sanitation and Hygiene group (EWASH) has condemned recent Israeli airstrikes that have resulted in damaged water and sanitation infrastructure in the Gaza Strip.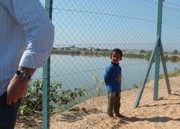 lucky to have water « In Gaza
13 Aug 14:45
Wet clothes are actually a blessing, for me at least in Gaza. I only wear them indoors, or sometimes underneath outer layers, and they do what non-existent air-con or fans-wanting-electricity can't: cool me down for a bit.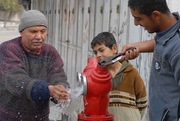 Under Israeli Siege: Gaza's Drinking Water Polluted
13 Aug 14:44
Al-Mezan Center for Human Rights said that 95% of the drinking water is below World Health Organization (WHO) standards, stressing that the Israeli practices contributed to decreasing the availability of drinking water and increased level of...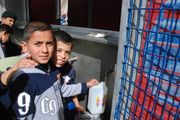 Water in Gaza: "it's not a simple problem" | The Electronic Intifada
13 Aug 14:43
For the last year Mark Buttle has been the coordinator for the "WASH cluster," the group of aid organizations working on water, sanitation and hygiene in the Gaza Strip. A chartered water engineer, Buttle has worked for a development-oriented...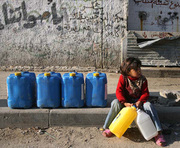 IRIN Middle East | Analysis: Looming water crisis in Gaza | OPT | Early Warning | Environment | Water & Sanitation
13 Aug 14:42
Unless urgent action is taken, the supply of water fit for human use in the Gaza Strip will be depleted in 5-10 years, according to the Gaza Coastal Municipal Water Utility (CMWU) and UN agencies working there.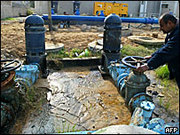 BBC NEWS | Middle East | Gaza issues toxic water warning
13 Aug 14:41
The water authority in the Gaza Strip has urged people to boil their drinking water to avoid the spread of disease.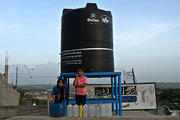 World Water Day: Thirsty Gaza residents battle salt, sewage - CSMonitor.com
13 Aug 14:40
Untreated pools of sewage, some as large as 100 acres, seep back into the sole aquifer that provides freshwater for Gaza's 1.5 million people. Aid workers are looking at new ways to replenish the aquifer, this World Water Day.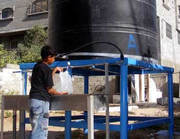 23 August 2010: Water supplied in Gaza unfit for drinking; Israel prevents entry of materials needed to repair system | B'Tselem
13 Aug 14:39
Almost 95 percent of the water pumped in the Gaza Strip is polluted and unfit for drinking. This warning was recently issued by the UN Environment Programme, the Palestinian Water Authority, the Coastal Municipalities Water Utility, and...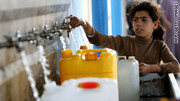 Israel keeping Gaza parched, Amnesty International says - CNN.com
13 Aug 14:39
Israel is denying Palestinians access to adequate water supplies by controlling shared water resources, the human rights group Amnesty International said in a report released Tuesday.

Water Crisis in Gaza: How Occupation Affects Palestinians Access to Water
13 Aug 14:38
Gaza has a water crisis. Most people in the international community do not know the details as to why it exists and the root causes of the resource deficiency.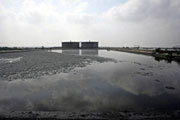 Gaza water crisis prompts UN call for immediate opening of crossings
13 Aug 14:36
The top United Nations humanitarian official in the occupied Palestinian territory today joined aid agencies in calling for the immediate opening of Gazas crossings to allow the entry of spare parts and materials critical to restoring the areas...

Palestinian water authority: 40% of Gazans lack running water - Haaretz Daily Newspaper | Israel News
13 Aug 14:35
Gaza Strip residents Monday moved from worrying about the electricity cuts of the previous 40 hours to worrying about a water shortage. The municipality needs electricity to bring water to homes and the houses need it to pump water to the roof tanks.

Palestine, Gaza: US artists raise awareness about water crisis | WASH news Middle East & North Africa
13 Aug 06:23
A delegation of US artists visited Gaza to bring worldwide attention to the water crisis in the besieged territory. The artists came to help the local community paint murals about drinking water a basic human right. The initiative is part of the...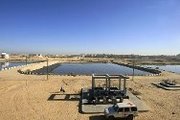 World Water Day - Gaza - new technology eases water shortage, reduces health hazard
13 Aug 06:19
World Water Day - Gaza - new technology eases water shortage, reduces health hazard 21-03-2011 News Release 11/64 Geneva/Jerusalem (ICRC) – Large n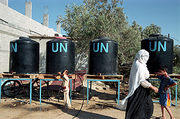 Palestine - The Water Crisis in Gaza
13 Aug 06:09
The political rhetoric and frequent violence of the israeli-palestinian conflict often serve to mask underlying environmental issues which, if not resolved, may pose an even greater threat to the well-being of the Palestinian population than the...

MADRE :: Press Room :: Fact Sheet: The Water Crisis in Gaza
13 Aug 06:08
Since 1967, the Gaza Strip has been under Israeli military occupation. As a result, Palestinians in Gaza have endured many harmful policies, including the denial of their rightful share of water and restrictions on developing water systems. The only...

Cyberpresse Presumes Israel Guilty in Gaza Communications Blackout (August 10, 2011)
13 Aug 06:07
Cyberpresse Presumes Israel Guilty in Gaza Communications Blackout (August 10, 2011)

UNICEF - UNICEF in emergencies - Crisis worsens Gaza's already severe water shortage
13 Aug 06:07
Crisis worsens Gaza's already severe water shortage

Latest Updates on #Gaza | #GazaBlackOut | Occupied Palestine | فلسطين
13 Aug 06:07
Latest Updates on #Gaza | #GazaBlackOut August 10, 2011 by occupiedpalestine 0 Comments Article 19 of the ICCPR states that "Everyone shall have t

Palestinians fear for ancient West Bank wa... JPost - Middle East
13 Aug 06:05
West Bank residents claim Israeli authorities' demolition of ancient cisterns has exacerbated water shortages.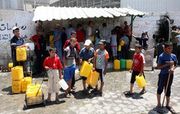 Gaza Residents Face Fresh Water Shortages - Salem-News.Com
13 Aug 06:05
Given the seriousness of the Gaza water crisis, one must conclude this crisis threatens Palestinian well being just as bombs from the Israeli military occupation forces do.