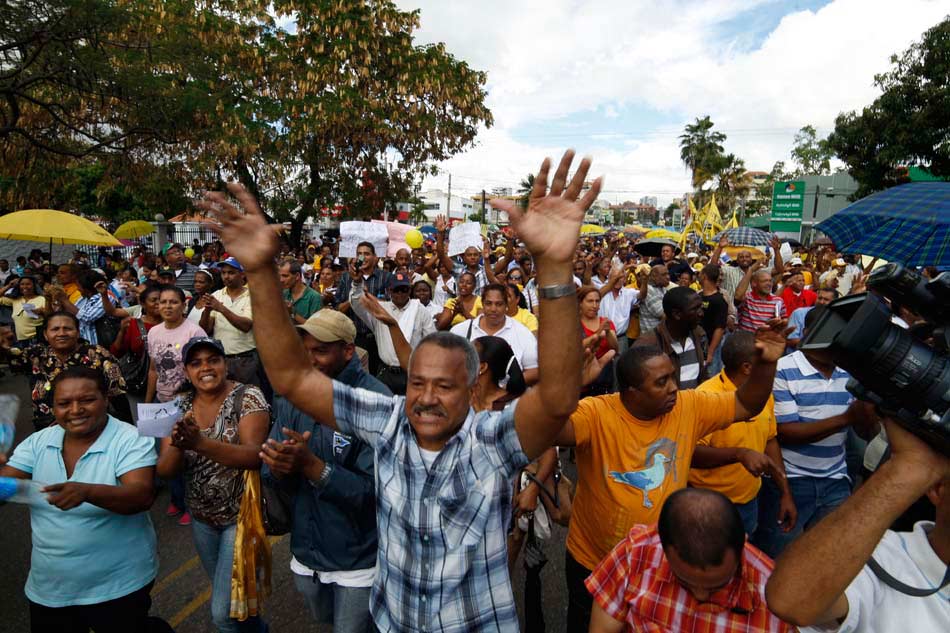 Protesta contra la reforma fiscal en República Dominicana
Protesta en contra de la Propuesta del gobierno Dominicana para el fortalecimiento de la capacidad recaudatoria del Estado para el desarrollo sostenible - Propuesta Reforma Fiscal 2012.

Loading Voice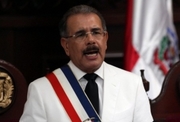 Dominicana: Nuevo presidente, viejos problemas - Almomento.net :: Periodico Digital Dominicano
10 Dec 13:04
Santo Domingo (PL) La llegada al poder de un nuevo presidente, aunque del mismo partido gobernante desde hace ocho años, distinguió en 2012 el acont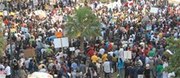 Lucha contra la reforma sigue - ElDia.com.do
10 Dec 13:03
Santo Domingo.-La lucha en contra de la reforma fiscal y la corrupción administrativa se hizo sentir una vez más cuando ayer en la tarde cientos de personas acudieron a la avenida George Washington, en el Obelisco Hembra del Malecón.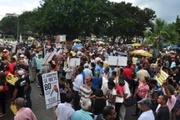 Cientos de personas protestan contra la corrupción
10 Dec 13:02
-Personas de diferentes ideologías políticas, religiosas, clases sociales, artistas y otras personalidades se concentraron ayer frente al obelisco hembra, en el malecón de Santo Domingo, para expresarse contra la corrupción y la impunidad, al...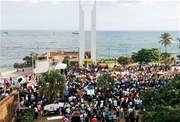 Cientos protestan en el Malecón contra la corrupción - listindiario.com
10 Dec 13:01
El Movimiento Justicia Social, que demanda el cese de la corrupción y la impunidad en República Dominicana, realizó ayer una concentración ayer en el Malecón de Santo Domingo, donde solicitó castigar con penas de cárcel a la mayoría de los...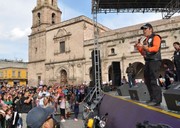 Dominicanos protestan contra la corrupción - Diario Provincia
10 Dec 12:58
Santo Domingo, República Dominicana.— Varios centenares de dominicanos se congregaron el domingo en el malecón de la capital para expresar su descontento por la corrupción en el gobierno, la falta de acciones judiciales en contra de funcionaros...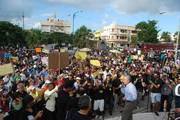 Panorama Diario: Cientos de manifestantes protestaron contra la corrupción e impunidad
10 Dec 12:56
Santo Domingo.- Si bien se reclamó el sometimiento judicial del ex presidente Leonel Fernández y el senador Félix Bautista, también se acusó al presidente Medina de protegerlos. Coreando consignas contra el exmandatario y presidente del Partido...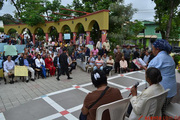 Leonelistas celebran "hora santa" para que Dios proteja a Leonel de la furia del pueblo - Acento
10 Dec 12:28
"Ven Espíritu Santo, llena los corazones y enciende en ellos el fuego sagrado de tu amor", con esta oración dos damas de la comunidad dieron comienzo formal a la "hora santa" a favor de Leonel Fernández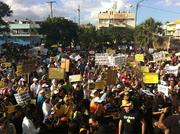 Dominican Republic Protest Against Corruption and Economic Reform
10 Dec 12:19
December 9, 2012. Via twitter.com/LaliMarte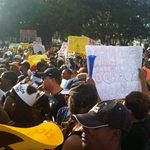 #NoCorrupcion #D9 #NoReformaFiscal #NoPaquetazo Photo - Dinuelkis Lora | Lockerz
10 Dec 12:18
@ninuhlora: #NoCorrupcion #D9 #NoReformaFiscal #NoPaquetazo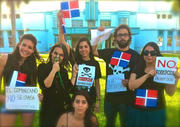 No Corruption - Performance Art Protest
10 Dec 12:11
December 9. Dominican Republic. Via twitter.com/glendagalan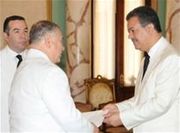 U.S. warns Dom. Rep.: Fight corruption or get left behind - DominicanToday.com
07 Dec 16:00
Santo Domingo.- U.S. ambassador Raul Yzaguirre on Wednesday said those countries that fail to fight corruption in a responsible and determined manner, the Dominican Republic among them, can't develop their economy, education or in any other sector.

Abogan por cambiar sistema de justicia dominicano contra corrupción - Espanol UPI.com
07 Dec 15:59
SANTO DOMINGO, Dominican Republic, dic. 6 (UPI) -- El sistema dominicano de justicia debe ser capaz de actuar con la debida firmeza y fortaleza para impulsar un nuevo régimen de sanción en los casos de corrupción.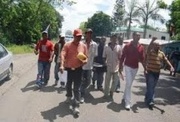 Peregrinos de Moca caminan hacia la capital dominicana por déficit fiscal
07 Dec 15:53
MOCA, ESPAILLAT.- Un grupo de peregrinos integrado por diez personas partió ayer en caminata hacia la capital dominicana para exigir que se investiguen las causas que provocaron el déficit fiscal. El activista Gabriel Sánchez, dirigente del...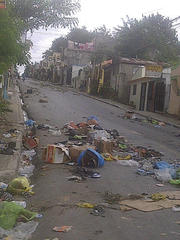 Twitter / MasterYeik: Esta es una de las muestras ...
14 Nov 14:23
Esta es una de las muestras de protesta en las calles de #SanFcodeMacoris #ReformaFiscal via @MasterYeik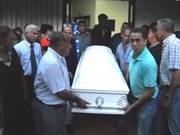 Dominicana: educadora baleada en protesta por la falta de agua « MIRADAS ENCONTRADAS
12 Nov 10:25
Una muestra de dolor y solidaridad, ofrecieron este sábado, los diversos sectores de esta sociedad, en el velatorio y posterior entierro de la profesora Ángela Moquete Méndez, quien falleció en un centro de salud de la Capital, tras ser herida...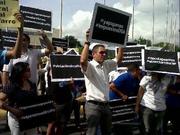 El sector courier protesta frente al Congreso en rechazo #ReformaFiscal
08 Nov 19:02
Photo Credit: @carolinaamadorf / Twitter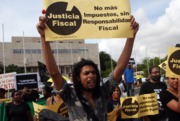 Estudiante muere en protesta en República Dominicana- Primerahora.com
08 Nov 15:22
Fue herido por un agente policial durante los disturbios en los que estudiantes encapuchados lanzaban piedras y otros objetos a los policÃas, según el presidente de la asociación de empleados de la casa de estudios.
Policias matan a estudiante de la UASD
08 Nov 14:23
La víctima es William Florián Ramírez,estudiante de medicina, quien recibió un disparo por parte de agentes de la Policía Nacional, durante las protestas escenificadas en la Universidad Autónoma de Santo Domingo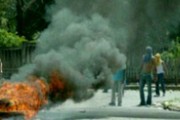 Un muerto tras protestas en la UASD
08 Nov 14:03
Un estudiante de medicina de la UASD murió tras enfrentamiento con la policia por protestas en contra de la Reforma Fiscal

Convocan a otra protesta contra el paquetazo frente al Congreso - Acento
07 Nov 18:21
Esta será otra de las tantas manifestaciones que se estarán realizando por parte de los ciudadanos en contra del paquetazo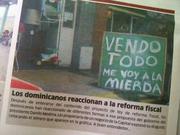 Dominicanos reaccionan en contra de la reforma Fiscal
07 Nov 14:35
Las reacciones han sido tan diversas que un comerciante expresó su disgusto con un letrero "VENDO TODO Y ME VOY A LA MIERDA"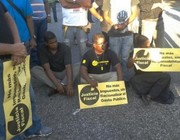 PN dispersa a bombazos a manifestantes frente a Congreso Nacional | Noticias SIN - Servicios Informativos Nacionales
06 Nov 19:45
Agentes policiales dispersaron la tarde de este martes con bombas lacrimógenas a decenas de manifestantes que protestaban en las fueras del Congreso Nacional en contra del proyecto de reforma fiscal.
Cientos frente al Congreso Nacional contra la reforma fiscal - Diario DigitalRD.ComTu conexión con la verdad
06 Nov 19:43
Cientos de activistas contra la reforma fiscal se mantienen plantado frente al Congreso Nacional de República Dominicana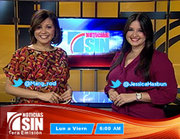 VIDEO. La UASD fue el punto de partida de marcha hacia el Congreso contra reforma fiscal | Noticias SIN - Servicios Informativos Nacionales
06 Nov 19:42
Representantes de las organizaciones populares que han convocado una marcha este martes en contra del proyecto de reforma fiscal presentado por el Poder Ejecutivo, se reunieron en la intersección de las avenidas Correa y Cidrón y Alma Máter y...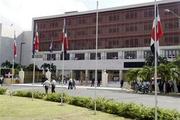 Activistas anti reforma fiscal comienzan a marchar - Diario DigitalRD.ComTu conexión con la verdad
06 Nov 19:41
Activistas que se oponen a la reforma fiscal han comenzado a llegar a los alrededores del Universidad Autónoma de Santo Domingo (UASD) para dirigirse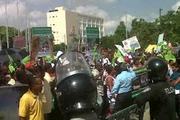 Con la consigna "Ese paquetazo no lo pago yo..." inicia protesta contra reforma frente al Congreso
06 Nov 19:39
Santo Domingo-. Bajo la consigna de "ese paquetazo no lo pago yo, que lo pague Leonel que fue que se lo robó", inició frente al Congreso Nacional una manifestación integrada por diferentes organizaciones en contra de la Reforma Fiscal con la...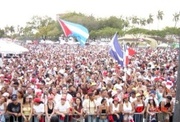 Dominicanos en Fl dicen que apoyan las protestas porque "ese pueblo no aguanta más"
06 Nov 19:39
La mayoría de los dominicanos residentes en el estado de la Florida, dijeron "apoyar" las protestas que realizarán varios sectores sociales en desacuerdo a la recién anunciada "Reforma Fiscal" que el gobierno de Danilo Medina pondrá en...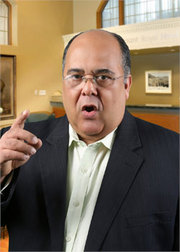 Reforma Fiscal: Amenaza paz social en República Dominicana
06 Nov 19:37
El Dr. Willians De Jesús Salvador, Sub Secretario Nacional de Relaciones Internacionales, del opositor Partido Revolucionario Dominicano, PRD, expresó que se puede quebrar la paz social en la República Dominicana, por la aprobación al vapor de...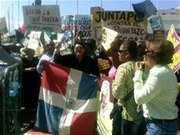 Grupos sociales piden no sea aprobada reforma fiscal - ElDia.com.do
06 Nov 19:36
SANTO DOMINGO.-El Foro Social Alternativo y el Movimiento Justicia Fiscal exigieron hoy que no sea aprobado en la Cámara Baja el proyecto de reforma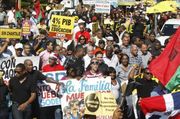 Rep. Dominicana vive "tranquila" la jornada de protestas en la contra reforma fiscal - Qué.es
06 Nov 19:22
Organizaciones populares y sociales de la República Dominicana protagonizaron hoy una jornada de protesta, calificada de tranquila por la Policía, en contra del proyecto de reforma fiscal, aprobado ya por los senadores y que es conocido por los...

Protests Planned as Dominican Republic Prepares to Raise Taxes - Businessweek
06 Nov 19:21
The Dominican Republic's congress will vote on tax increases today, amid protests that people are being forced to pay for government profligacy that has pushed up the fiscal deficit.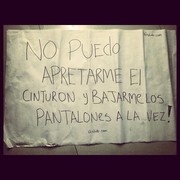 Fotos de La Protesta Contra La Reforma Fiscal "El Paquetazo" | Nistido.com
06 Nov 19:20
Fotos de la protesta que se esta realizando en el Congreso Nacional contra la recién Nueva Reforma Fiscal.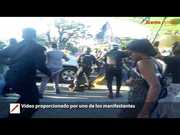 Diputados y policias maltratan jóvenes que participaban en la vigilia contra el paquetazo
06 Nov 19:16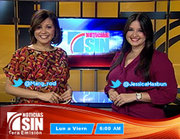 VIDEO. Manifestantes comienzan a retirarse; representantes de grupos dicen se mantendrán en protesta | Noticias SIN - Servicios Informativos Nacionales
06 Nov 18:18
Home » Primera Plana, Videos » VIDEO. Manifestantes comienzan a retirarse; representantes de grupos dicen se mantendrán en protesta VIDEO. Manifes