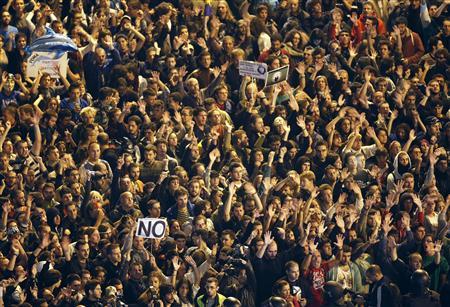 Protests in Spain 2012
On September 25, 2012, citizens in Spain began protests against the austerity measures for the country's 2013 budget. Many of the youths came out to protest the impending cuts to healthcare, to education, and to the salaries of public workers. However as demonstrators gathered, police in riot gear surrounded the group, shot rubber bullets into the crowd and beat protesters, resulting in over 30 injuries so far.

Loading Voice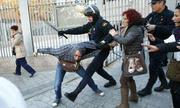 Spain
05 Dec 13:18
jlsilvavd: @MarcasPadraig #Spain Today´s protest against healthcare privatization has led to riot police interventions http://t.co/dmjTOzhx

Catalans protest 'return to Franco' as schools are told to teach more Spanish - Telegraph
05 Dec 12:22
Catalan nationalists have warned of a "return to the Franco era" in a deepening row over education reform that will see Castilian Spanish given the same priority as regional languages in schools.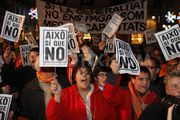 People with disabilities protest cuts to care
04 Dec 15:54
Barcelona, December 3, 2012. Via: demotix.com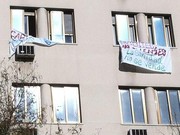 Toman la sede de Capio en defensa de la sanidad pública
03 Dec 06:20
Un grupo de activistas del movimiento conocido como #mareablanca ha tomado esta mañana de la sede de la empresa Capio, beneficiaria de los algunos de los servicios de salud cuya gestión ha sido privatizada por la Comunidad de Madrid, entre ellos...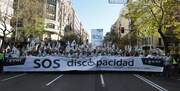 Decenas de miles de personas marchan en Madrid por los derechos de los discapacitados - 20minutos.es
03 Dec 05:20
Según los convocantes, unas 50.000 personas han participado en la marcha. Se trata de una manifestación histórica puesto que es la primera vez que se concentra de forma unitaria a todo el colectivo de personas con discapacidad. Han hecho una...

Spain's disabled protest over cuts - World News, Breaking News - Independent.ie
03 Dec 04:19
Disabled people have taken to the streets of Madrid in the latest protest against broad austerity measures, anger over government cutbacks reducing services, closing disability centres and forcing care workers from their jobs.

Anarchism in Barcelona Part II: The Bank and the Bikeshop « Vagabrothers
03 Dec 02:17
As austerity hits Spain, the Vagabrothers connect past and present in some unlikely parts of Barcelona in "The Bank and the Bikeshop".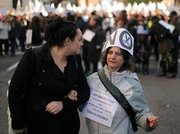 Spain's disabled protest austerity cuts - World news by mail.com
02 Dec 21:20
Disabled people took to the streets of Madrid on Sunday in the latest protest against broad austerity measures, angry over government cutbacks reducing services, closing ...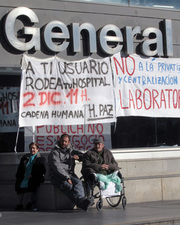 La Sanidad madrileña retoma la huelga - Público.es
02 Dec 19:18
Los nuevos paros contra la privatización del sistema público de Salud comienzan a las 8:00 horas para los médicos y a las 22:00 para todos los trabajadores de hospitales

Thousands of disabled protest against austerity cuts in Spain |News.com.au
02 Dec 18:29
SPANISH Prime Minister Mariano Rajoy has admitted it will be difficult for the government to meet its deficit reduction targets despite a raft of austerity measures, as thousands of disabled people staged a noisy protest over cuts to their benefits.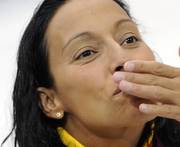 Spain Paralympians march with 15,000 disabled to protest cuts - Politics - ANSAMed.it
30 Nov 13:19
Spain Paralympians march with 15,000 disabled to protest cuts, Olympic champion Teresa Perales in the lead on Sunday, , Politics, Ansa

Spain's Iberia workers to stage 6 days of strikes before Christmas to protest massive layoffs - The Washington Post
29 Nov 18:26
MADRID — Labor unions representing most workers in Spain's Iberia airline say they will stage six days of strikes right before the Christmas holiday period to protest the company's plans to lay off 4,500 workers.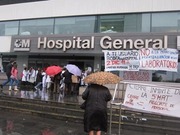 El seguimiento de la huelga de médicos se mantiene en el 85% - Público.es
29 Nov 15:21
La Consejería de Sanidad, por su parte, asegura que la participación está siendo del 32,46% de la plantilla, un 3,83% menos que ayer.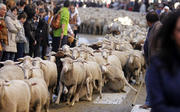 Madrid, Spain
28 Nov 12:21
xicalawinebar: 2,000 Sheep in the streets of Madrid as part of a protest. http://t.co/75xo6Ngz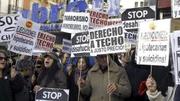 Huelga general 14-N: Tres personas irrumpen con pancartas durante el telediario de TVE - ABC.es
13 Nov 16:23
Ha sucedido durante una conexión en directo con una reportera que informaba sobre las novedades del caso Madrid Arena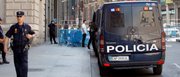 Huelga del 14-N: el 25-S quiere que todos los manifestantes se concentren frente al Congreso - EcoDiario.es
13 Nov 16:18
La coordinadora 25-S que organizó movilizaciones para rodear el Congreso y empapelarlo con propuestas, ha convocado para este miércoles una protesta contra los Presupuestos Generales en los alrededores de la sede parlamentaria, una movilización...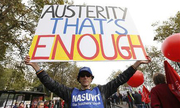 Anti-austerity strikes, protests to engulf Europe: Trade unions - International - World - Ahram Online
13 Nov 15:23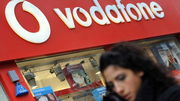 El valor contable de Vodafone España ha caído en 11.300 millones en 4 años
13 Nov 12:22
El valor contable de Vodafone España ha caído en 11.300 millones de euros en los últimos cuatro años, debido a la crisis económica, de los que ...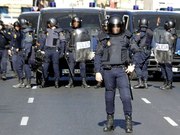 Interior despliega 1.300 antidisturbios en Madrid para neutralizar a los piquetes - Público.es
13 Nov 11:21
El dispositivo es similar al del pasado 25 de septiembre contra el movimiento Rodea el Congreso. Casi la mitad de los agentes son refuerzos de provincias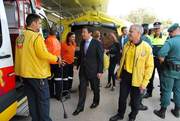 El juez imputa al concejal Pedro Calvo por las muertes en el pabellón Madrid Arena - 20minutos.es
13 Nov 07:23
El juez reconstruye sobre el terreno y con testigos la noche del suceso. ANÁLISIS | Quién es quién en el caso de las muertes de cuatro adolescentes CRONOLOGÍA | Los hechos y la investigación, paso a paso.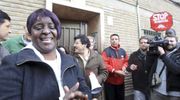 Crise 2.0: Despejos e Suicídios na Espanha « Política, Economia e Cultura
13 Nov 06:20
0 Crise 2.0: Despejos e Suicídios na Espanha 13 de novembro de 2012   Despejos dos imóveis, uma rotina na Espanha    A questão humana numa gran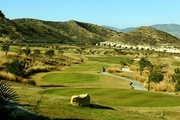 El golf no parará en España el 14-N | OpenGolf.es
13 Nov 03:20
La huelga general convocada por las centrales sindicales mayoritarias para el 14 de noviembre apenas tendrá incidencia en los campos de golf de España, tras la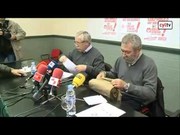 Toxo y Méndez: 'Defendemos la efectividad de la presión social en el caso de los desahucios'
12 Nov 19:13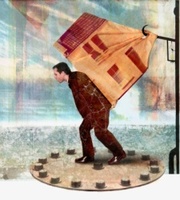 La crisis de los desahucios y los sintecho: The New York Times vuelve a poner el foco en España - elEconomista.es
12 Nov 19:09
El diario estadounidense vuelve a retratar el lado más oscuro de la realidad española y de nuevo lo hace con una galería de fotos en blanco y negro. Si hace apenas un mes y medio hablaba de austeridad, hambre y protestas, la publicación pone el...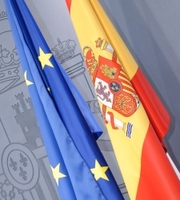 Las personas con discapacidad intelectual se movilizan contra los recortes el día 22 - EcoDiario.es
12 Nov 19:08
La Confederación Española de Organizaciones en favor de las personas con discapacidad intelectual (Feaps) ha convocado una serie de movilizaciones en toda España el próximo 22 de noviembre para protestar por los recortes que están llevando a la...

Por los suicidos y las protestas, congelan los desalojos en España - Observador Global
12 Nov 19:08
La Asociación Española de Banca (AEB) congeló, por dos años, las expulsiones de los propietarios endeudados, tras dos suicidios en quince días.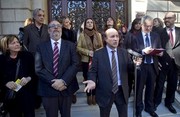 Protesta de abogados en toda España por las tasas judiciales
12 Nov 19:03
Grupos de abogados han protestado en varias ciudades por el aumento de tasas judiciales que consideran que frena el acceso a la justicia

Se mantiene la presión social y se paran desahucios a la espera de soluciones. Murcia - La Verdad
12 Nov 19:02
Madrid, 12 nov (EFE).- Asociaciones y ciudadanos han vuelto a salir a la calle hoy para parar desahucios y seguir presionando para cambiar las normas hipotecarias, a la espera de la reunión entre el Gobierno y el PSOE y con el apoyo de varias...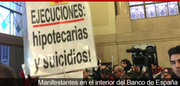 Los afectados por la hipoteca 'ocupan' el Banco de España / Economía / Elboletin.com
12 Nov 19:01
Varias decenas de personas, vinculadas a la Plataforma de Afectados por la Hipoteca (PAH) han entrado en el Banco de España para protestar por los desahucios. Fuentes del supervisor financiero aseguran que han sido apenas 15 personas las que han...

Protestas en España contra los desalojos
12 Nov 18:58
Madrid es escenario de protestas contra los embargos de viviendas; miles de familias han debido entregar sus casas al no poder pagar la hipoteca...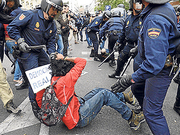 Photographing police could become illegal in Spain
12 Nov 18:54
In a move criticised by civil liberty groups, the government is to pass a law which would ban recording police if doing so endangers them or their work. The ban would also prevent material being reproduced, for example on the internet.

Anti-Eviction Activist Outside the Partido Popular Party's Office
12 Nov 18:49
Via @trust.org: Spain's two main political parties were to meet on Monday to draft new foreclosure laws to give unemployed people more time to renegotiate home loans after a woman jumped from her four-story flat on Friday just as she was to be...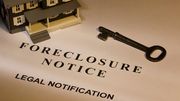 Spain's eviction reforms speeding up
12 Nov 18:41
THE Government is reportedly speeding up a reform following another suicide ahead of an eviction. This time of a 53-year-old ex-Socialist Councillor in Barakaldo, Bilbao, Amaya Egaña. She committed suicide by climbing the stairs of the six floor...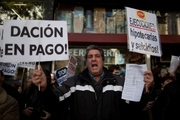 Getty Images: Spanish Banks Announce Two Year Freeze Of Mortgage Evictions In Cases Of Extreme Need
12 Nov 18:40
MADRID, SPAIN - NOVEMBER 12: Mortgage Victim Platform (PAH) member Carlos Sedano, a 57 year-old unemployed man from Spain, duruing a protest against evictions outside the PP (Popular Party) headquarters on November 12, 2012 in Madrid, Spain. Sedano...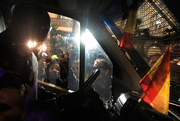 Flowers for the Riot Police
12 Nov 18:36
Image taken September 29, 2012. Photo Credit: AP / Andres Kudacki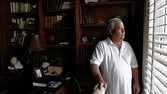 Spain Aims to Ease Foreclosure Laws - WSJ.com
12 Nov 18:34
Spanish government and opposition leaders are moving toward an agreement to loosen century-old housing-foreclosure laws amid an uproar over the suicides of two homeowners who were facing eviction.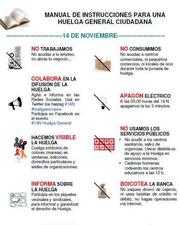 Guidelines for November 14 General Strike
12 Nov 17:49
Sugerencias para apoyar la Huelga General. Via @Vicky_Taibo / Twitter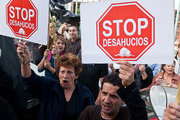 Spain to Tackle Mortgage Reform Following Eviction-Related Suicides | Common Dreams
12 Nov 17:45
In the Basque region of Spain, residents of the town of Barakaldo held a vigil Friday to pay homage to a 53-year-old woman who jumped from a balcony to her death as she was about to be evicted. The death of Amaia Egana marked the second suicide in...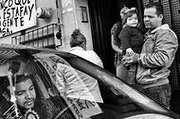 Spain Evictions Create an Austerity Homeless Crisis - NYTimes.com
12 Nov 17:43
The number of Spanish families facing eviction is mounting at a dizzying pace, and when they can't move in with relatives, they often take over empty homes, and there are plenty of them.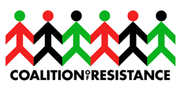 European day of action | 14 November | Coalition of Resistance Against Cuts & Privatisation
12 Nov 14:23
On November 14th there will be general strikes in Spain, Portugal, Greece,  Italy, Cyprus and Malta. These strikes are a response to the unprecedented att...